Symposium 2014: Central Europe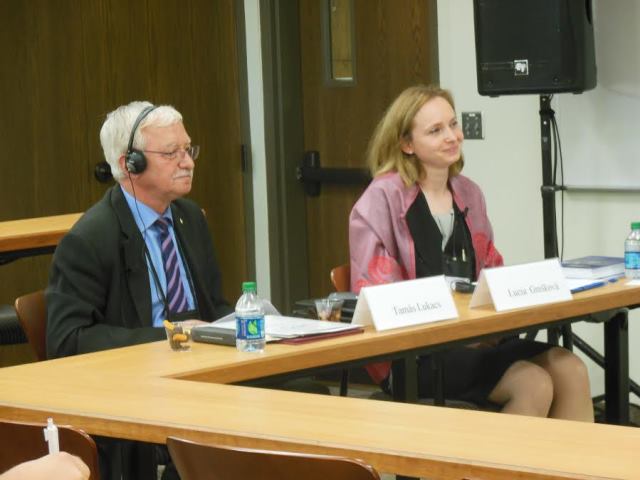 Reported by Christina Champenois
Moderator: Wade Jacoby, Mary Lou Fulton Professor of Political Science and Director of the Center for the Study of Europe, Brigham Young University
Speakers: Tamás Lukacs, former Member of Hungarian Parliament, Chair of the Committee for Human Rights, Minorities, Civil and Religious Affairs; current President, Hungarian Independent Police Complaints Board; Henryk Hoffmann, Director, Department of Religious History, Institute of Religious Studies, Jagellonian University, Poland, with Anna Książek, graduate student, Department of Religious History, Jagellonian University, Poland; Lucia Grešková, Deputy Director, Ministry of Culture, Slovak Republic
Tamás Lukacs spoke about religion and secularization in Hungary. He stated that society should not deny truth potential to religious worldviews and should not prohibit fellow citizens from making contributions in religious language. According to Lukacs, the answer to secularization is in the final will of Christ—not to take them out of the world, but to save them from evil. This means that we need to recognize our religion and that we are not competitors or enemies but need to learn a culture of discussion and dialogue.
Henryk Hoffmann discussed the Catholic church and secularization in Poland. Although many Poles consider themselves Catholic, many do not know the basic tenets of their own faith. A 2013 survey showed that Poles went to church less often but prayed more often. Because a downward trend in institutional religious behavior is often accompanied by a decline in private prayer, this privatization of faith may also suggest the beginning of secularization. Hoffmann also addressed religious education in the school system, indicating that some children see religion class attendance as a substitute for church attendance.
Lucia Grešková spoke about secularization, which she described as operating on two levels: state and individual. According to Grešková, the major aspect is the privatization of religion. The effect of this privatization is visible in structural changes although secularization is still incomplete from a political and social point of view. She explained that the church-state relationship in Europe is based on affirmation principles—the existence of churches with large memberships that integrate into the social life of the state; new religious movements are seen as less stable because they resist integration into the existing legal and social systems of democratic countries. Grešková also discussed recent census data about the eighteen churches and religious communities registered in Slovakia.