Symposium 2013: Latin America: Community Leaders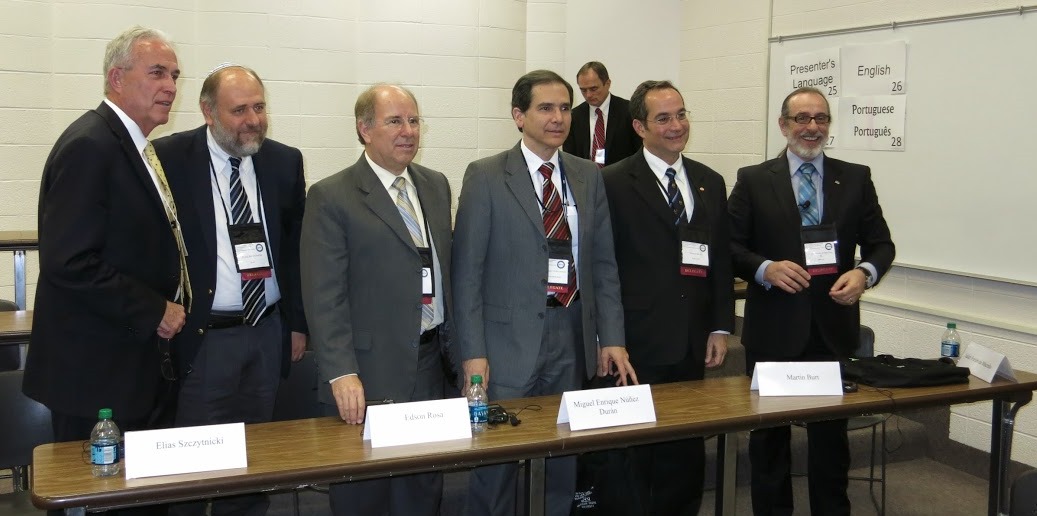 Gaylee Coverston reporting
Moderator: Stanley Martineau
The Latin America: Community Leaders session brought together a panel of community leaders from Peru, Brazil, Paraguay, and the Dominican Republic.
The session began with Elias Szczytnicki of Peru, the Secretary General and Regional Director of Religions for Peace in Latin America and the Caribbean. This great community advocate created a clear picture of the advancement in participation of many religious groups in interfaith activities. He discussed the united Nations 1.5 track and recognized the many contributions of various religious entities and individuals. He continued by summarizing what has occurred in the last couple of decades regarding religious freedom interfaith activities that have promoted and brought to the forefront of the world the importance of freedom of religion and conscience. He also touched on current plans to continue interfaith action and become part of the Organization of American States (OES).
Pastor Edson Rosa, from Brazil, Public Affairs and Religious Liberty Director of South America for the Seventh-day Adventist Church, addressed the topic of human dignity and love for humankind from a Hebrew-Christian doctrinal point of view. He quoted various biblical scriptures, defining God's love for humankind and each individual's importance in the eyes of God. He pointed out that if God's love for all humankind is unconditional and worthy of intense sacrifice on His part, then despite our differences in appearance, thought, or principle we should be able to preserve human dignity through, at the very least, mutual respect. He concluded by emphasizing that the freedom to choose and the right to life are necessary to human dignity. Freedom and life are interrelated. As we strive to preserve human rights and the freedom of religion and conscience, human dignity becomes a real aspect of each individual's existence.
Miguel Enrique Núñez Durán, President of the Dominican Association for Religious Freedom, presented a panoramic view of Law and Religious Freedom in the Dominican Republic, including religious demographics, constitutional changes, and particular mention of the duties of the constitutional court, that acts independent of the Supreme Court. Although there are still issues regarding confessional state and the inequality of allowances given to different denominations, efforts are in motions to rectify these inequalities.
Martin Burt of Paraguay, Executive Director of Fundacion Paraguaya, discussed human dignity in terms of poverty. He portrayed the difficult conditions of life for the majority of the population in Paraguay. Those whose poverty forces them to exists in a state of survival cannot access true human dignity. His current occupation is to help those in abject poverty to rise to better living conditions, reclaiming that sense of human dignity. The only successful way improve a person's living conditions is to access that internal hope to be able to succeed and the personal motivation to rise. When an individual chooses to put forth efforts to improve they take responsibility and generally succeed. He also emphasized the importance of reclaiming the head of the family and the social structure of families. Through efforts of this nature, he has seen the lives of the poor improved, not by giving everything to them, but by helping them to pursue a better life for themselves.
Dr. Jader Freire de Macedo, Jr., Co-founder and current Vice President of the OAB's (Brazilian Bar) Law and Religious Liberty Commission of Sao Paulo, finished this session. He began by mentioning that in Brazil, having had separation of state and religion since 1891, religious liberty and freedom of conscience are constitutionally protected and generally respected by all citizens. However, a secular state is made of people who have their own religions and convictions. As can happen when opinions differ, we find expressions of discord. Dr. Jader then stated that after over 900 years of discussing, defining and dealing with issues of human rights and freedom of religion and conscience, we are still discussing the same theme as if we didn't know what it was. Paraphrasing Ghandi, he said," We can go on different paths to achieve the same result." One of the OAB's social obligations, and the best way to resolve such conflicts, is to mediate. The purpose of justice is to respect the law. In turn, respect and understanding mitigate discord and violence. In conclusion, he quoted Einstein, "What a sad era when it is easier to smash an atom than a prejudice."