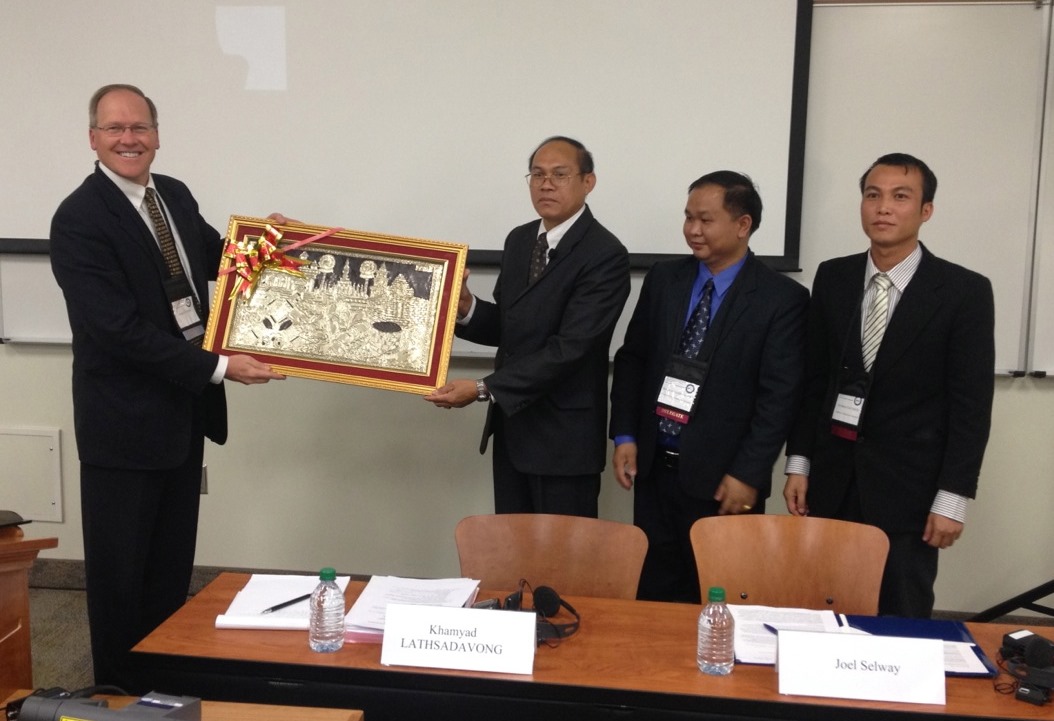 Jordan Pendergrass reporting
During one of the Symposium's first breakout sessions, which was moderated by Joel S. Selway, Assistant Professor, Political Science, Brigham Young University, the Lao People's Democratic Republic was represented by
Bounna PHATHOUMMAVONG, Director General, Department of Home Affairs of Vientiane Capital,
Houmphan XAYASITH, Staff, Ethnic and Religious Affairs Department, Ministry of Home Affairs, and
Khamyad LATHSADAVONG, Director of Religious Division, Lao Front for National Construction.
The delegation began its presentation by affirming the equality of all people under the law, and throughout the session the speakers reiterated the importance of the universal applicability of the country's laws without regard to religion or place of domicile. Additional topics of the session included the registration of churches, the appropriate occasions for limiting religious exercise, and the challenge of overcoming the intolerance of particular social groups (ie, traditional cultural groups in rural areas).
An emphasis of the session was the steps that Lao PDR is currently taking to improve its religious freedom framework. Reference was made to the government's Decree 92, which is now 11 years old, and which is undergoing revision in order to make some of the Decree's articles more appropriate for the country's current situation. The government recognizes the need to alter the Decree, and the revision process is incorporating the opinions of leaders of the country's provinces. The delegation also expressed its commitment to international religious freedom standards to which it is bound, and it was made clear that Lao PDR will incorporate into its laws all the good that it finds in the examples of the governments of other countries.
The delegation concluded its session by presenting to the International Center for Law and Religion Studies an intricate piece of art depicting a national symbol from the capital, Vientiane.