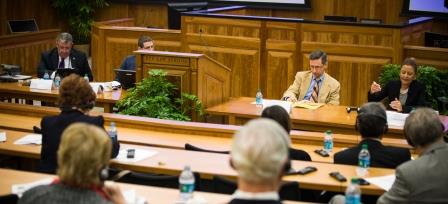 Jordan Pendergrass reporting
Moderator: Mark Choate
Speakers: Claudio Mario Betti, Anna Nardini, and Andrea Pin.
The session dedicated to Italy began with the furthering of a common Symposium theme: the language of the human rights framework. Claudio Mario Betti, Assistant to the President, Community of Sant'Egidio, made it clear that a small "s" makes a big difference; a discussion of "religion and human rights" is often overly theoretical while a discussion of "religions and human rights" typically deals with concrete persons and things. During his presentation Dr. Betti emphasized the need for good human rights language and lamented many religious actors' ignorance and inability to understand the human rights vocabulary. He explained how religions play an important role in the development of identity and the fostering or repairing of healthy relationships. Although it is difficult to do, Dr. Betti further explained, religions must be properly oriented to human rights and human rights must be properly oriented to religions. Using the current conflict in Syria as an example, he described how religious actors and non-religious actors can value life, peace, and stability and at the same time have drastically different mechanisms for achieving those ends. Dr. Betti is a historian and teacher of international relations and conflict resolution. He has spent many years interacting with different religious actors.
The session's second speaker was Anna Nardini, Director General, Presidency of the Council of Ministers. Ms. Nardini has extensive experience in matters of government and religion and religious freedom. During her remarks, she provided an overview of the Italian government's modern history of the relationship between church and state, emphasizing the Italian commitment to religious freedom. Ms. Nardini affirmed the centrality of religious freedom in the Italian constitution as a right for both individuals and associations. She described the government's position toward the Catholic church and the process by which other religious groups have established agreements with the government. There are a number of benefits available to minority religious groups, including the following: choice in religious education; recognition of a faith's theological study; marriage within a particular faith tradition; building rights (eg, security against inappropriate police invasion); and ministerial benefits. During the question and answer portion of the session, Ms. Nardini talked about the growth of Islam in Italy, referencing particularly the array of Italian mosques.
Andrea Pin, Lecturer in Comparative Law, University of Padua, was the session's final speaker. Dr. Pin began his remarks by discussing Lautsi v. Italy, a case addressing the permissibility of crosses hanging in classrooms of Italian state schools. He furthered the dialogue regarding the search for European identity, and linked that dialogue to European national efforts to achieve neutrality, in some situations, and religious freedom, in others. He discussed the risks of state neutrality and the need for an umbrella of pluralism broad enough to cover Europe, a need that has derived from a poorly fitting blanket of universal neutrality. Dr. Pin addressed the religious history of Europe and the varying levels of secularism throughout Europe, and prescribed the means by which states may retain their religious roots while preserving religious freedom. Religious pluralism works at the European level, Dr. Pin explained, but at a state level there is simply too much of an influence of the historical majority religion to disregard the prominence of that majority religion.