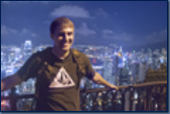 Carl Hollan never expected serving an LDS mission in Taiwan would inspire him to change his career plan and springboard into the legal world. Now, as a second-year BYU law student, Hollan's love for Asian culture has motivated him to accept an externship in China with the International Center for Law and Religion Studies.
While in China, Hollan has had the opportunity to handle government documents and work closely with scholars regarding the current religious situation. His background with the LDS Church as well as an undergraduate degree in Asian Studies has given Hollan the tools he has needed to evaluate the Chinese legal system and produce documents related to religious freedom.
"This is sometimes difficult because before analyzing any legal problem you must first understand some of the basic frameworks of the legal system the problem will be resolved under," Hollan said. "In a single day you might be given problems from Thailand, Cambodia, Hong Kong, India, and Malaysia. Each time the legal system is different and the proposed solution must be adapted to the local legal options."
One valuable lesson Hollan has learned as an extern in China is the importance of asking enough questions to get the job done correctly. His experiences working with lawyers in China and learning to ask the right questions has prepared him to be a detailed and persistent law student and future lawyer.
"We must include every detail about our proposed solution and must ask questions about every aspect of the solution to ensure that it is legally sound from all angles," Hollan said. "This has given me the opportunity to be detailed in my proposals and even more detailed and clear in the questions I ask."
Most importantly, Hollan's externship in China has opened his eyes to the possibilities of international law and the opportunities available to him after law school. In turn, it has influenced his perspective of American law and the importance of foreign law.
"This internship has given me broad exposure to several different types of laws and even more legal systems," Hollan said. "Seeing how different nations use different legal structures to ensure different protections or benefits gives a different perspective on US law and foreign law."
As he finishes his externship in Hong Kong, Hollan hopes to gain many more valuable experiences and effectively apply them to his future legal career.