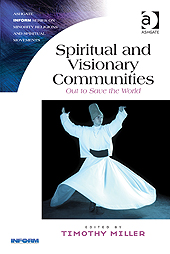 Spiritual and Visionary Communities: Out to Save the World
Timothy Miller, ed.
Ashgate Inform Series on Minority Religions and Spiritual Movements 2013
Exploring religious and spiritual intentional communities active in the world today, Spiritual and Visionary Communities provides a balanced introduction to a diverse range of communities worldwide. Breaking new ground with its focus on communities which have had little previous academic or public attention, the authors explore a part of contemporary society which is rarely understood. Communities studied include: Israeli kibbutzim, Mandarom, the Twelve Tribes, 'The Farm' and the Camphill movement. Written from a range of perspectives, this collection includes contributions from members of the groups themselves, former members, and academic observers, and as such will offer a unique and invaluable discussion of religious and spiritual communities in the U.S., Europe, and beyond.
Contents: Introduction: persistence over millennia: the perennial presence of intentional communities, Timothy Miller; Damanhur: sustaining changes in an intentional community, Etta M. Madden; Mandarom and the limitations on liberté in the laïcité, Susan J. Palmer; Henpecked to heaven? My life in a Brahma Kumaris retreat center, Neville Hodgkinson; Realising the guru's intention: hungry humans and awkward animals in a new Kadampa tradition community, Carol McQuire; Tamera, a model for the future, Leila Dregger; Spirituality in the Camphill villages, Jan Martin Bang; The farm, Albert Bates; A tradition of innovation and the innovation of tradition: the cultural developments of the 12 Tribes community, Torang Asadi; The Family International: the evolution of a communal society, Clare Borowik; How many arks does it take?, Chris Coates; Religious communes in America: an overview, Timothy Miller; The intersection of White-Racist communes and the American legal system, H.C. Lazebnik; Communes and kibbutzim: towards a comparison, Henry Near; Select bibliography; Index.
About the Editor: Timothy Miller has thirty years' experience in the study of new religious movements, with a special focus on communal groups.
Reviews: 'Based uniquely on the experience and knowledge of notable communal residents and scholars, this anthology offers rich insights into the visions and workings of modern spiritual communities worldwide. Timothy Miller's analytic introduction successfully ties together the threads of communal history and utopian communal usage. Nowhere else is such a penetrating wide-angle-view of contemporary spiritual intentional communities available.' – Donald E. Pitzer, University of Southern Indiana, USA
'Once again Timothy Miller has brought together an impressive set of papers that highlight contemporary communities in Spiritual and Visionary Communities: Out to Save the World. International in scope, this collection of communities presented within the context of their common mission to forge a better life, together present a refreshing assessment of the world of community and spirituality that thrives in the midst of so much global chaos.' – Susan Love Brown, Florida Atlantic University, USA
'I had a fascinating time "armchair traveling" recently while I was reading the collection of essays in Spiritual and Visionary Communities: Out to Save the World. Each chapter, written by a member of the community I "visited" in the pages of this book, not only provided information about the community, but gave me a feel of what it was like to live there. Writers were lively, articulate, and honest.' – Communities