Smith Delivers Religious Freedom Lecture on Tax Privileges of Churches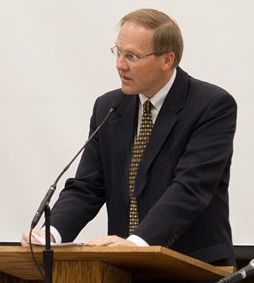 Professor Robert T. Smith, Managing Director of the International Center for Law and Religion Studies (ICLRS) of the J. Reuben Clark Law School, presented the Fourth Lecture of the Religious Freedom Discussion Series sponsored by the ICLRS in cooperation with the Community Service Outreach Committee of the J. Reuben Clark Law Society. Professor Smith's address, "Valuing Religion: Historical Tax Privileges of Churches in a Modern Secular Age," was delivered on 15 September 2011 at the Law School on the campus of Brigham Young University and was available via webinar to listeners worldwide.
Professor Smith has served as ICLRS Managing Director since 2006. In this role he oversees the activities of the Center, including supervising the Annual International Law and Religion Symposium and numerous international conferences each year. He serves as the Center's Regional Advisor for the United States, oversees academic publications, and participates in law-reform consultations. An experienced tax attorney, he teaches a course on the taxation of religious organizations at the J. Reuben Clark Law School.