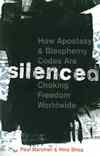 Silenced: How Apostasy and Blasphemy Codes are Choking Freedom Worldwide
Paul Marshall and Nina Shea
Oxford University Press 2011
Review by Thomas F. Farr (Christianity Today, 29 December 2011)
…. In Silenced: How Apostasy and Blasphemy Codes are Choking Freedom Worldwide (Oxford University Press), Paul Marshall and Nina Shea go bravely where the media fear to tread. Based on an extensive examination of Muslim-majority countries, they contend that laws and policies punishing blasphemy and apostasy are not only a major source of religious persecution, but also an obstacle to stable democracy and the defeat of Islamist terrorism.
Having collaborated for several years, first at Freedom House and currently at the Hudson Institute's Center for Religious Freedom, the pair brings to the subject a remarkable background in research and advocacy. Marshall is in many respects the intellectual godfather of the fight for international religious freedom. His 2007 Religious Freedom in the World was the first attempt to provide a comparative index of religious liberty that measured the performances of key countries. And Shea has pioneered activism on behalf of the victims of persecution, while maintaining a steady stream of trenchant writings on the subject. Of late, she has directed much of her fire at the failures of Saudi Arabia to remove toxic Wahhabist principles from its textbooks.
Deepening Alarm
Blasphemy has been understood classically as manifesting contempt for God or, worse, assuming the attributes of God. In medieval Europe, it was considered a crime warranting severe penalties from the state, usually supported by the Catholic Church. But today—despite the continued presence of antiblasphemy laws on the books of a few Western states—most Christian denominations believe religious error must be addressed by better preaching and teaching, not by coercion from the state or private actors. One of the key demands of the Second Vatican Council's Declaration on Religious Liberty (1965) is that all religious communities have the right to make their truth claims freely and publicly, and to win converts where those claims are persuasive.