Senator Lieberman on Faith and the Public Square at BYU, 25 October 2011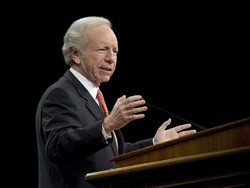 Senator Joseph Lieberman addressed the topic "Faith and the Public Square," related to his recently published book, The Gift of Rest: Rediscovering the Beauty of the Sabbath, at Brigham Young University's Marriott Center on Tuesday, 25 October 2011. The lecture will be rebroadcast on KBYU-TV at 9 a.m. and 5 p.m. on November 20. Click here to read the BYU News Report of the event.
From a Washington Times review of the book by Michael Medved: "The purpose of 'the gift of rest' in Mr. Lieberman's view isn't 'to recharge our batteries so we can work harder but to recharge our souls so we can live better.' Citing a wide variety of Jewish sources both ancient and modern, the senator affirms that work and rest form an indissoluble whole. Six days a week we work to improve our world; on the seventh day, we rest to improve ourselves.
In his BYU address Senator Lieberman recounted how his own religious beliefs, including his Sabbath observance, have been respected by his colleagues and constituents during his time in public office, a reflection of the generally tolerant view of Americans toward religious conviction. The religious beliefs of the Founders, the Senator noted, are reflected in the Declaration of Independence, and they took care to enshrine religious liberty for all in the Constitution, both in the Article 6 prohibition against religious tests for public office and in the First Amendment bans on government establishing or interfering religions. Senator Lieberman affirmed his confidence in the commitment of Americans, including those in his BYU audience, to respect for religious freedom and moral principles and the continued worth of religious discourse in the public square.
In October 2010, Senator Lieberman (Independent of Connecticut) became the first recipient of the International Religious Liberty Award, given by the DC Mid-Atlantic Chapter of the J. Reuben Clark Law Society and its affiliated student chapters in connection with the International Center for Law and Religion Studies of Brigham Young University. The award was given in recognition of Senator Lieberman's outstanding contributions to the promotion and preservation of religious freedom. Among his many other efforts in this regard, Senator Lieberman was a cosponsor of the United States' 1998 International Religious Freedom Act, which created three cooperative entities for monitoring and responding to religious persecution worldwide: a bipartisan United States Commission on International Religious Freedom, a U.S. Ambassador-at-Large for International Religious Freedom, and a Special Advisor on International Religious Freedom within the UN Security Council.
In graciously accepting the award, Senator Lieberman reminded hearers that "religious liberty is a fundamental human right, in some sense, in the American context, it is the premise and the predecessor to all the other rights that our laws give us. … Threats to religious freedom anywhere in the world are common threats to humanity everywhere." Noting that "religious freedom today remains under threat in too many parts of the world" and indeed that "as many as half of the world's people live in regimes that either limit or suppress religious freedoms," the senator praised the Brigham Young University affiliated organizations who presented the award: "The School, the Society … the Center is really providing substantive, important, and often courageous leadership in one of the most important battles that we are waging in the world today, and that is the battle to protect and advance religious liberty."