Scholar Elena Miroshnikova Visits the Center from Leo Tolstoy Institute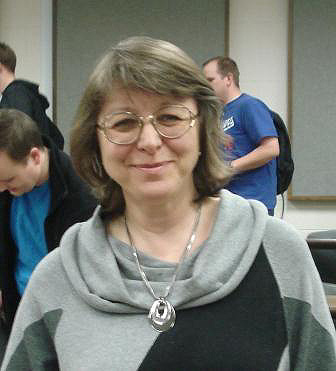 The International Center for Law and Religion Studies had the very great pleasure of welcoming Dr. Elena Mikhailovna Miroshnikova to Brigham Young University for one month during Winter Semester 2012. Dr. Miroshnikova is Professor in the Department of Philosophy, Culture Studies, Ethics, Religious Studies, and Theology at Tula State Pedagogical Leo Tolstoy University (Russia), where she teaches Freedom of Conscience, Religion and Society, Religion and Politics, New Religious Movements, and Russian History of State-Church Relations.
Dr. Miroshnikova is a Member of the Board of the Russian Association of Scholars on Religious Studies, Member of the International Consortium of Law and Religion Studies (Milan), and Expert of Human Rights Without Frontiers (Belgium). Her fields of interest include civil religion and freedom of conscience and choice of world view and have focused on models of church-state relations, religious education, the public status of religious symbols, new religious movements, and religion and policy.
A fluent speaker of English and German, Dr. Miroshnikova is a frequent presenter at international conferences in her subject matters. Among her publications are the chapter "Civil religion and religious symbols in public institutions in Russia" in the volume Law and Religion in the 21st Century: Relations between States and Religious Communities (Ashgate 2010) and the report "Religion and the Secular State in Russia" for the volume Religion and the Secular State, prepared on the occasion of the 18th International Congress of Comparative Law (published Complutense Universidad de Madrid 2016). She has published The Cooperation Model in State-Church Relations: Experience and Problems (Lambert 2011) and a major work undertaken with Derek Davis, Director of the J.M. Dawson Institute of Church-State Studies at Baylor University, The Routledge International Handbook of Religious Education (2012), part of the Routledge International Education Handbook Series.
Before becoming Professor at Leo Tolstoy, Dr. Miroshnikova was Professor at Russian-American Christian Institute and Deputy Director of the Institute for Religion and Law in Moscow. In 2002-2003 she was Visiting Professor at Baylor University, and from 1994-2002 she served as Expert in the Tula Region Parliament.
The Center is grateful for the time Dr. Miroshnikova was able to spend in Provo, and look forward to continued fruitful collaboration in the coming years, as she continues to share with us her expertise in the field of religion and education.