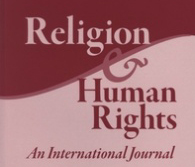 Brett G. Scharffs, Francis R. Kirkham Professor of Law and Associate Director of the International Center for Law and Religion Studies at the J. Reuben Clark Law School, has published the article "Four Views of the Citadel: The Consequential Distinction between Secularity and Secularism," in the journal Religion and Human Rights 6 (2011) 109-126.
In this article Professor Scharffs suggests that there is an important, perhaps critical, distinction between secularity and secularism — in particular, that one concept is a fundamental component of liberal pluralism and a bastion against religious extremism, and that the other is a misguided, even dangerous, ideology that may degenerate into its own dystopian fundamentalism. As a means of advancing this suggestion, Scharffs views the distinction between secularity and secularism from four vantage points, each of which he calls a view of the citadel.
The article is based on a paper Professor Scharffs delivered at the Oxford Conference on Law and Religion, held from 7-9 June 2010 on the historic grounds of Balliol College, Oxford. Under the organizational leadership of Dr. Peter Petkoff, the three-day event was sponsored by the International Center for Law and Religion Studies, Oxford Society for Law and Religion, the University of Bristol School of Law, the International Consortium for Law and Religion Studies at Milan, and the Strasbourg Consortium. Other institutional supporters included Focus on FORB, the Centre for Christianity and Culture at Regent's Park College, Brunel Law School, Oxford Brookes University, and the House of St. Gregory and St. Macrina.
Religion & Human Rights provides a unique academic forum for the discussion of issues of crucial importance with global reach. The Journal covers the interactions, conflicts and reconciliations between religions or beliefs on the one hand; and systems for the promotion and protection of human rights, international, regional and national, on the other. The Journal is published in the Netherlands by Brill, with Professor Jeroen Temperman of Eramus University Rotterdam as editor-in-chief, and is available in both print and electronic versions.