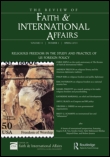 In an important contribution to the 10th Anniversary Issue of The Review of Faith & International Affairs, Professor Brett G. Scharffs explores "International Law and the Defamation of Religion Conundrum." Professor Scharffs is Francis R. Kirkham Professor of Law and Associate Director of the International Center for Law and Religion Studies of the J. Reuben Clark Law School, Brigham Young University.
Since the late 1990s, notes Professor Scharffs, there has been a concerted effort by many Muslim-majority countries and the Organization of Islamic Cooperation (OIC) to incorporate a ban on "defamation of religion" into international law. In 2011, the UN Human Rights Council adopted, with the support of the OIC, Resolution 16/18, which shifted away from the idea of defamation to focus more narrowly on combating religious intolerance. However, the idea of banning "defamation" still has currency.
The needed political and religious response to blasphemous and other hateful speech, says Scharffs, is more speech, speech that repudiates the haters, builds solidarity, and communicates empathy and respect. The needed legal response is to prosecute speech when it incites violence against those who are targets of that speech. Violence by those who are offended by hateful speech is itself a criminal action. Being a victim of hate speech must not become a license for violence. The US should continually strive to contextualize this issue, to emphasize non-legal responses, and to recommend legal responses that are based upon narrowly defined legal categories such as hate speech.
The Review of Faith & International Affairs is published quarterly by the Institute for Global Engagement's Center on Faith & International Affairs. It is the first and still only journal devoted exclusively to analysis and commentary regarding the role of religion—for good or ill—in global affairs. Combining peer-review quality with magazine accessibility, the Review brings together many of today's most innovative and distinguished thinkers, making their research and commentaries available not just to specialists but to a wider audience of globally concerned readers.