Scharffs at 2018 Global Business & Peace Symposium, Seoul, South Korea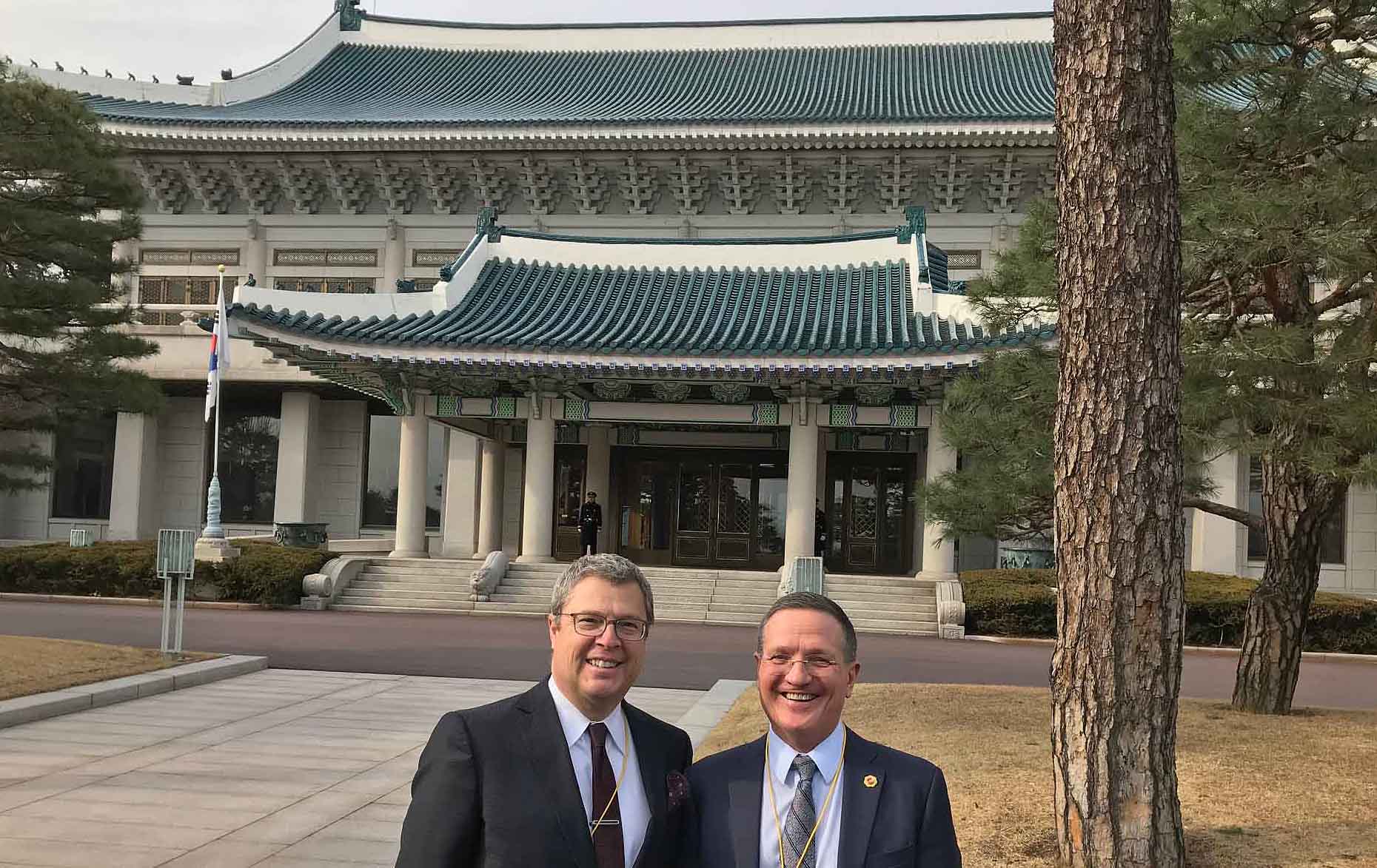 The International Center for Law and Religion Studies was among the sponsors of the 2018 Global Business & Peace Symposium held 7-8 March in Seoul, South Korea. Center Director Brett Scharffs participated in the event, delivering a closing address. In connection with the Symposium, Professor Scharffs joined Brian Grim, President of the Religious Freedom & Business Foundation, as part of the Peace Delegation attending high-level meetings at the Korean National Assembly (Parliament), the Presidential Blue House, and with the Mayor of Seoul on March 7.
Former United Nations Secretary General Ban Ki-moon gave the keynote speech at the event, where special honors were given to business leaders who have worked to advance peace with North Korea, including some involved with the Kaesong Industrial Complex (KIC), located inside North Korea just across the demilitarized zone from South Korea.
As part of the Sympoisium, the 2018 Global Business and Interfaith Peace Awards were presented in Seoul on March 8, the day before the opening of the 2018 PyeongChang Winter Paralympics.
Elder Robert C. Gay, president of the Asia North Area of The Church of Jesus Christ of Latter-day Saints attended the event. LDS Church member Carlos Wizard Martins, President of Sforza Holding, received a silver medal. Praised for encouraging his employees to bring their whole self to work – faith and all – the awards committee noted, "Globally, Carlos is a vocal proponent of religious freedom as a member of the 2014-16 World Economic Forum's Global Agenda Council on Faith, and at home, helping to fund Brazil's 2015 Religious Freedom Festival in Latin America's oldest mosque."