Scharffs and O'Crea Discuss Religion in the Secular State at Clark Society Event in London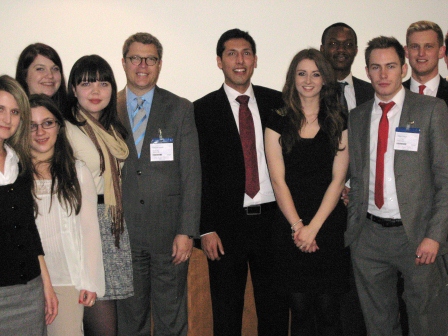 On 21 April 2012 the London Chapter of the J. Reuben Clark Law Society sponsored an event hosted by the law firm Latham & Watkins, Bishopsgate, London. The event featured a discussion of the topic "A secular state preserves religious freedom" by Dr. Ronan McCrea, a barrister lecturing at University College London, and Professor Brett G. Scharffs, Francis R. Kirkham Professor of Law at the J. Reuben Clark Law School, Brigham Young University, USA, and Associate Director of the International Center for Law and Religion Studies.
Dr. McCrea is author of Religion and the Public Order of the European Union (OUP 2011), which was Shortlisted for The Peter Birks Prizes for Outstanding Legal Scholarship 2011, and Professor Scharffs is author, with his colleague Cole Durham, of the groundbreaking casebook Law and Religion: U.S., International, and Comparative Perspectives (Ashgate 2010). Among their many other honors and affiliations, both Dr. McCrea and Professor Scharffs are visiting professors at Central European University in Budapest.
Speaking to a group of students and young professionals from London area and throughout Southern England, McCrea and Scharffs each delivered prepared remarks and then held a robust discussion concerning the protections of religious freedom by the secular state.