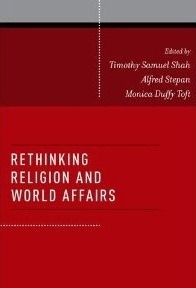 Rethinking Religion and World Affairs
Edited by Timothy Shah, Alfred Stepan, and Monica Toft
Oxford University Press 2012
Description
In recent years, the role of religion in the study and conduct of international affairs has become increasingly important. The essays in this volume seek to question and remedy the problematic neglect of religion in extant scholarship, grappling with puzzles, issues, and questions concerning religion and world affairs in six major areas. Contributors critically revisit the "secularization thesis," which proclaimed the steady erosion of religion's public presence as an effect of modernization; explore the relationship between religion, democracy, and the juridico-political discourse of human rights; assess the role of religion in fomenting, ameliorating, and redressing violent conflict; and consider the value of religious beliefs, actors, and institutions to the delivery of humanitarian aid and the fostering of socio-economic development. Finally, the volume addresses the representation of religion in the expanding global media landscape, the unique place of religion in American foreign policy, and the dilemmas it presents. Drawing on the work of leading scholars as well as policy makers and analysts, Rethinking Religion and World Affairs is the first comprehensive and authoritative guide to the interconnections of religion and global politics.
Features
Most comprehensive study to date of religion and world affairs
Includes essays by leading scholars, policy-makers, and analysts
Reviews
"Rethinking Religion and World Affairs is a unique compendium of the perspectives of many of the top scholars writing on the increasingly prominent, but long neglected topic of religion and world politics. Illuminating the intersection of religion with the themes of democracy, human rights, conflict, humanitarianism, the media, and foreign policy, these first-rate essays offer broadly accessible, up-to-date treatments of the big ideas that define this field."
—Jack Snyder, Robert and Renee Belfer Professor of International Relations, Columbia University
Produced under the auspices of the Social Science Research Council through the generous support of the Henry Luce Foundation.