Resolving Conflicts between Human Rights: The Judge's Dilemma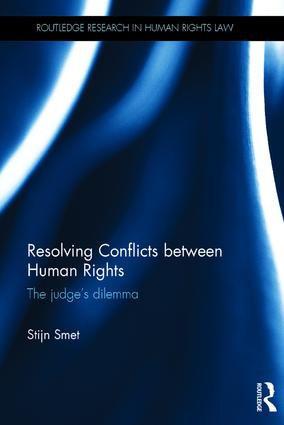 Resolving Conflicts between Human Rights: The Judge's Dilemma
Stijn Smet
Routledge: Research in Human Rights Law 2017
Under the influence of the global spread of human rights, legal disputes are increasingly framed in human rights terms. Parties to a legal dispute can often invoke human rights norms in support of their competing claims. Yet, when confronted with cases in which human rights conflict, judges face a dilemma. They have to make difficult choices between superior norms that deserve equal respect. In this high-level book, the author sets out how judges the world over could resolve conflicts between human rights. He presents an innovative legal theoretical account of such conflicts, questioning the relevance of the influential proportionality test to their resolution. Instead, the author develops a novel resolution framework, specifically designed to tackle human rights conflicts. The book combines concerted normative theory with profound practical analysis, firmly rooting its theoretical arguments in human rights practice. Although the analysis draws primarily on the case law of the European Court of Human Rights, the book's core arguments are applicable to judicial practice in general. As such, the book should be of great interest to academics, postgraduate students and legal practitioners in Europe and beyond. The book is particularly suited for use in advanced courses on legal theory, human rights law and jurisprudence.
Table of Contents
Introduction
Part 1: Identifying Conflicts between Human Rights 1. Conflicts between Human Rights: It Does Really Make a Difference 2. Defining Conflicts between Human Rights 3. Defusing and Minimizing Conflicts between Human Rights
Part II Difficulties in Balancing Human Rights 4. Theoretical Challenges to Balancing Human Rights 5. Practical Obstacles to Balancing Human Rights
Part III Making Balancing Work for Conflicts between Human Rights 6. A Structured Balancing Test for Human Rights Conflicts 7. Alternative (Non-)Balancing Approaches 8.Human Rights Dilemmas and the Limits of the Structured Balancing Test
Author
Stijn Smet is Postdoctoral Fellow at the Law School of Ghent University. His research interests are human rights, legal theory and political theory. He has published on human rights conflicts in Human Rights Law Review, American University International Law Review and Religion & Human Rights.