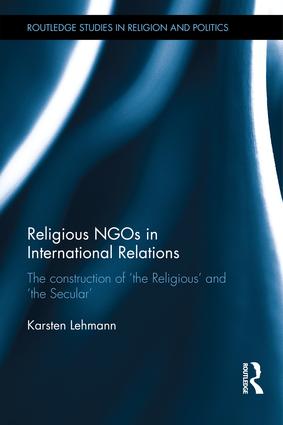 Religious NGOs in International Relations: The Construction of 'the Religious' and 'the Secular'
Karsten Lehman
Routledge 2016
Over the last 30 years, non-governmental organizations (NGOs) have become increasingly present in international discourses and active in international decision-making. Among the estimated several million NGOs in existence today, an increasingly visible number of organizations are defining themselves in religious terms – referring to themselves as "religious", "spiritual", or "faith-based" NGOs. This book documents the initial encounters between the particularly international segment of those organizations and the UN while at the same time covering the Protestant and Catholic spectrum that dominated the early years of their activities in the UN-context.
This book focuses on the construction of the human rights discourse inside two religiously affiliated organizations: The Commissions of the Churches on International Affairs (CCIA) and Pax Romana (IMCS / ICMICA). These organizations have been formally accredited as NGOs by the UN, label themselves as religious, and look back upon a long and intense cooperation with the UN. Lehmann presents material from the archives of those two organizations that has so far rarely been used for academic analysis. In doing so, as well as documenting the encounters between those organizations and the UN, and looking at the Protestant and Catholic spectrum, the book provides new insights into the very construction of the notions of 'the religious' and the 'secular' inside those organizations.
This work will be of great interest to all students of religion and international relations, and will also be of interest to those studying related subjects such as global institutions, comparative politics and international politics.
Karsten Lehmann is a scholar of the Academic Study of Religions as well as Sociology of Religions. He currently works as Head of Social Sciences and Statistics at the International Centre for Interreligous and Intercultural Dialogue in Vienna, Austria.