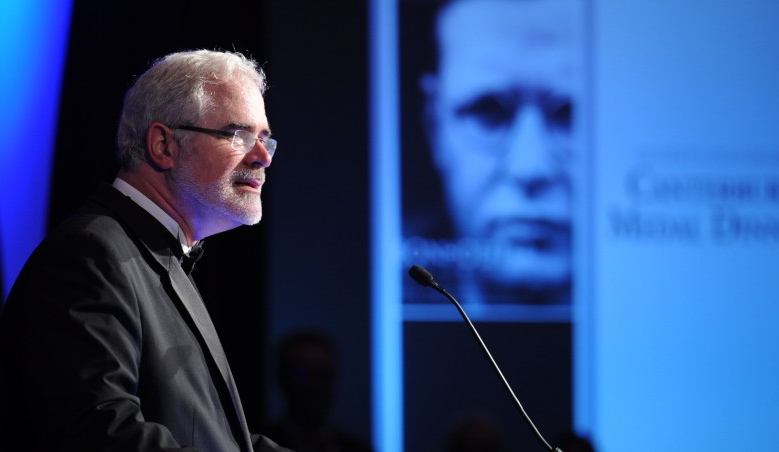 New York City, NY – The Becket Fund for Religious Liberty is proud to announce its highest honor, the Canterbury Medal [for 2012] was awarded to their founder and President Emeritus, Kevin J. "Seamus" Hasson, last night in Manhattan, for his pioneering leadership and tireless sacrifices in the cause of religious freedom.
Thanks to the visionary work of Mr. Hasson, this one-room organization grew into a "powerhouse law firm" (Associated Press) achieving "the greatest religious liberty case in half a century" (WSJ) and winning praise from a diverse group of thinkers including Pope John Paul II and Elie Wiesel.
"We thank this man for what he's done for religious liberty," said Eric Metaxas, New York Times best-selling author. "Seamus's eyes were open to the threat to religious liberty long before it was as brutally pointed as it is today."
For sixteen years, Seamus had been the driving force behind the intellectual and legal activities of The Becket Fund and continues to inspire thousands with the clarion call to defend religious liberty as a basic human right that no government may lawfully deny
"Now more than ever do we need the work of the Becket Fund," said New York's Cardinal, Timothy Dolan, President of the U.S. Conference of Catholic Bishops.
Each year, the Becket Fund awards the Canterbury Medal to the person who has "most resolutely refused to render to Caesar that which is God's." Past Canterbury Medalists include Nobel laureate Elie Wiesel, Prison Fellowship founder the late Charles Colson, financiers Foster Friess and Ted Forstmann, and former Ambassador to the Vatican, James R. Nicholson.
In a room packed with over 500 supporters and friends of the Becket Fund, the gala was full of surprises including a tribute video, bagpipes, a live band and even some poetry reading.
Other Attributable Quotes:
"At no other time has the Becket Fund for Religious Liberty been more indispensable in defending basic freedoms. We are facing an unprecedented assault on religion that must be continually countered not only in the public square but, just as importantly, in the courts." Fr. Jonathan Morris, Author, Fox News Religion and Ethics Analyst, and Program Director of "The Catholic Channel" radio on SiriusXM 129
"People of all faiths are better off because of Becket Fund's defense of religious liberty. We owe them a great deal." – Nathan Lewin, Honorary President, American Association of Jewish Lawyers and Jurists
"We thank the Becket Fund for its tireless efforts in defense of religious liberty. Becket understands, as we do, that if we fail to diligently protect religious freedom—a vitally important freedom in its own right—other important rights may also be imperiled."– Elder Lance B. Wickman, General Counsel, The Church of Jesus Christ of Latter-day Saints.
"No person is more deserving of celebration than Becket Fund's courageous founder, the silver-tongued Seamus Hasson," said Becket Fund's Chairwoman, Mary Ann Glendon, former US Ambassador to the Holy See and Harvard Law Professor. "He is a true hero for religious liberty."
"Seamus Hasson founded the Becket Fund in 1994 because he knew that public life needs a vigorous voice of faith to thrive, and religious liberty needs a vigorous defender to survive. We Americans have had the luxury of taking religious freedom for granted. We can't do that anymore. The work that Seamus Hasson set in motion nearly twenty years ago is more critical today than ever before. No one person is more deserving of this legacy of the Archbishop of Canterbury, Thomas a Becket, one of God's most resolute warriors of conscience. I congratulate my friend, Seamus Hasson, who truly earned this honor."Archbishop Chaput, O.F.M. Cap., Archdiocese of Philadelphia
"The defense of liberty—religious, economic, and political—requires champions. Seamus Hasson and the Beckett Fund are champions of liberty and have made an invaluable impact on behalf of civil society." —Chip Mellor, President & General Counsel, Institute for Justice