Religious leaders discuss democracy, liberty with EP President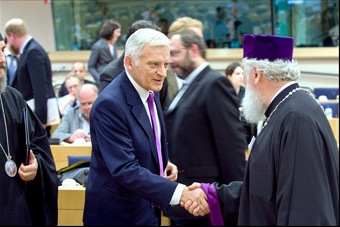 Representatives from the Christian, Jewish, Muslim and Buddhist faiths were in Brussels on Monday, May 30, 2011, to talk with the presidents of the EU institutions about rights and liberty and building a partnership for democracy and shared prosperity between Europe and its neighbours.
"The challenges to promote democracy, pluralism, the rule of law, human rights and social justice in Europe can only be met with the active contribution of the religious communities. Today's discussion confirmed our commitment," European Commission President José Manuel Barros said.
"Religions are essential for the social fabric of EU countries. The EP stresses that religious freedom is one of the most fundamental human rights. In order to be effective in its neighbourhood policy, the EU should cooperate with religious groups on issues such as education, health care to rebuilding post-conflict societies," according to EP President. Jerzy Buzek.
"Values can not survive without spiritual, religious or ethical impetus," European Council President Herman Van Rompuy added.
Some 22 faith leaders from 13 EU Members States (the UK, Germany, Sweden, Hungary, France, Belgium, Austria, Italy, Romania, Greece, Cyprus, Poland and the Netherlands) and from Russia and Bosnia-Herzegovina welcomed the EU's determined engagement.