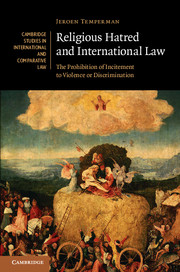 Religious Hatred and International Law:
The Prohibition of Incitement to Violence or Discrimination
Jeroen Temperman
Cambridge University Press Academic 2015
The UN International Covenant on Civil and Political Rights obliges state parties to prohibit any advocacy of religious hatred that constitutes incitement to discrimination or violence. This book traces the origins of this provision and proposes an actus reus for this offence. The question of whether hateful incitement is a prohibition per se or also encapsulates a fundamental 'right to be protected against incitement' is extensively debated. Also addressed is the question of how to judge incitement. Is mens rea required to convict someone of advocating hatred, and if so, for what degree of intent? This analysis also includes the paramount question if and to what extent content and/or context factors ought to be decisive. The author extensively engages with comparative domestic law and compares the workings of the UN Human Rights Committee with those of the UN Committee on the Elimination of Racial Discrimination and the European Court of Human Rights.
Unprecedented comparative analysis of 'incitement' offering an international understanding of the differences in treatment by the UN Human Rights Committee, CERD, and the ECHR
Also includes comparative analysis at the national level, with valuable insight into the vast and differing forms of state practice on how to tackle incitement
Proposes a context-dependent risk assessment, showing the reader international law-based reflections on aggravating factors and penalties pertaining to the crime of incitement