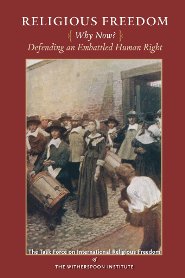 Religious Freedom: Why Now? Defending an Embattled Human Right
Timothy Shah
Witherspoon Institute's Task Force on International Religious Freedom 2012
Why now? Religious freedom is under sustained pressure today around the world. In some places, it is fair to say that religious freedom is under siege. The publication of Religious Freedom: Why Now? is a response to that sobering fact. Although scant attention is paid by governments, the academy, or the media, the implications of this crisis—and we contend that it is a crisis—are quite serious. A worldwide erosion of religious freedom is causing large-scale human suffering, grave injustice, and significant threats to international peace and security.
For three years, the Witherspoon Institute's Task Force on International Religious Freedom — under Tom Farr's chairmanship — examined the various dimensions of the challenge faced by religious freedom, and deliberated on the most effective policy responses by the United States and other governments around the world. In May 2011, the Witherspoon Institute convened an unprecedented interdisciplinary meeting in Princeton, New Jersey of more than thirty experts on the subject, from the fields of psychology, sociology, law, philosophy, theology, political science, and international relations. They included academics, policy analysts, and journalists, as well as advocates and adherents from a variety of religious traditions. The result was a focused discussion over two days of the basis of religious freedom, its present condition, and the prospects for its future.
Religious Freedom: Why Now? is the Task Force's considered statement on these matters. Drafted by RFP Associate Director Timothy Samuel Shah, with contributions from the Witherspoon Institute's Matthew J. Franck and the members of the Task Force, it is informed by insights from all these academic disciplines and religious traditions.