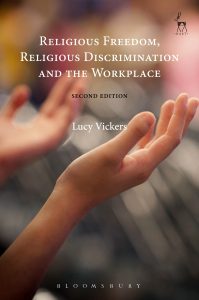 Religious Freedom, Religious Discrimination and the Workplace
Lucy Vickers
Hart Publishing 2016
This book considers the extent to which religious interests are protected at work, with particular reference to the protection against religious discrimination provided by the Equality Act 2010. It establishes a principled basis for determining the proper scope of religious freedom at work, and considers the interaction of freedom of religion with the right not to be discriminated against on grounds of religion and belief.
The book locates the debates surrounding religion and belief equality within a philosophical and theoretical framework in which the importance of freedom of religion and its role within the workplace are fully debated.
This second edition is fully revised and updated in the light of recent case law from the UK and the European Court of Human Rights, which deals with religious discrimination and freedom of religion.