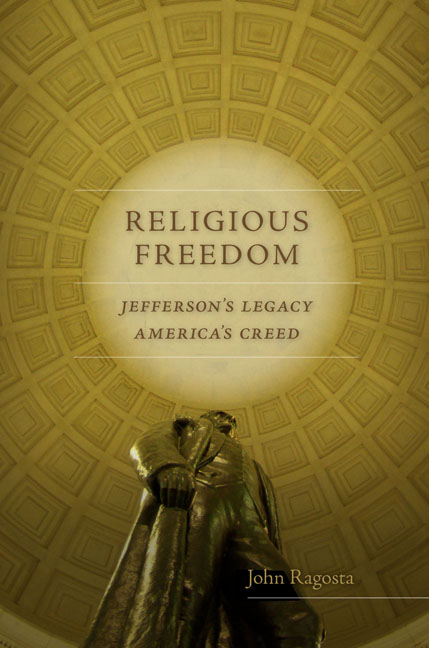 Religious Freedom: Jefferson's Legacy, America's Creed
John Ragosta
University of Virginia Press 2013
For over one hundred years, Thomas Jefferson and his Statute for Establishing Religious Freedom have stood at the center of our understanding of religious liberty and the First Amendment. Jefferson's expansive vision—including his insistence that political freedom and free thought would be at risk if we did not keep government out of the church and church out of government—enjoyed a near consensus of support at the Supreme Court and among historians, until Justice William Rehnquist called reliance on Jefferson "demonstrably incorrect." Since then, Rehnquist's call has been taken up by a bevy of jurists and academics anxious to encourage renewed government involvement with religion.
In Religious Freedom: Jefferson's Legacy, America's Creed, the historian and lawyer John Ragosta offers a vigorous defense of Jefferson's advocacy for a strict separation of church and state. Beginning with a close look at Jefferson's own religious evolution, Ragosta shows that deep religious beliefs were at the heart of Jefferson's views on religious freedom. Basing his analysis on that Jeffersonian vision, Ragosta redefines our understanding of how and why the First Amendment was adopted. He shows how the amendment's focus on maintaining the authority of states to regulate religious freedom demonstrates that a very strict restriction on federal action was intended. Ultimately revealing that the great sage demanded a firm separation of church and state but never sought a wholly secular public square, Ragosta provides a new perspective on Jefferson, the First Amendment, and religious liberty within the United States.
Reviews
"John Ragosta offers a robust defense of the Jeffersonian legacy of religious liberty, using his careful exploration of its history to help us understand contemporary debates about the proper roles of church and state in American life."
—Joyce Appleby, UCLA, author of The Relentless Revolution: A History of Capitalism
"For historians and legal scholars, Ragosta provides an important contribution to an ongoing discussion. He traces clearly how the Virginia experience, and Jefferson's ideas, affected Madison and others when they framed the First Amendment of the Constitution. Excellent and meticulously done."
—Johann Neem, Western Washington University
Ragosta keeps a very tight focus… an engrossing first chapter ably attempts to explicate [Jefferson's] spiritual philosophy…. The final chapter, considering Jefferson's legacy, and the way it's been pushed and pulled to meet the requirements of those who wish to appear to be in line with their country's founding father, will capture readers' attention again and provides a thought-provoking conclusion
—Publishers Weekly
About the author
John Ragosta is Visiting Assistant Professor of History at Hamilton College.