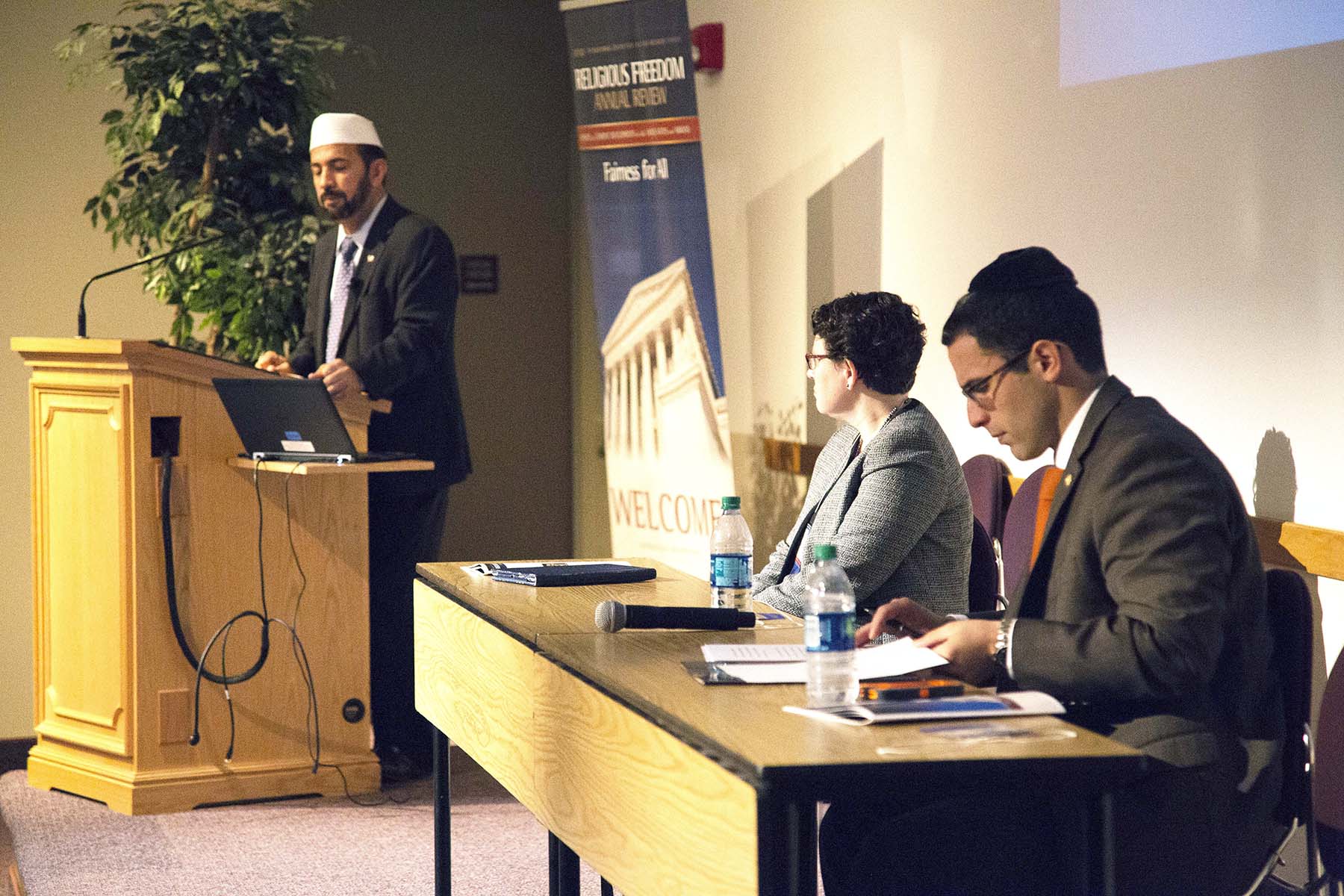 by Brenden Stuart
In the Friday, 8 July 2016 morning plenary session, moderated by Elizabeth A. Clark, Associate Director, International Center for Law and Religion Studies, J. Reuben Clark Law School, Brigham Young University, Imam Muhammad Musri and Daniel I Mark each spoke on how we can work together to promote religious freedom.
Imam Muhammad Musri, President and Chairman of the Board of the Islamic Society of Central Florida, gave his presentation titled "Interfaith Cooperation to Promote Religious Freedom in Muslim Majority Countries". He discussed the activities he has pursued to foster interfaith cooperation between Muslims and Evangelical Christians in America. Activities fostering cooperation included interfaith groups building homes for the less fortunate, a Texas retreat attended by fifteen imams and fifteen evangelical pastors, as well as a conference in Washington attended by 150 imams and 150 pastors. Each of these events allowed both sides to share concerns and work on resolutions to improve. Muhammad Musri's common theme throughout his presentation was the importance of focusing on the similarities between Islam and Christianity, rather than the differences.
In his presentation, "What Politics Can Learn from the Family: Jews, Latter-day Saints, and the Case for Religious Freedom", Daniel Mark, assistant professor at Villanova University and member of the United States Commission of International Religious Freedom, discussed what politics can learn from families and, more specifically, what politics can learn about mercy. Daniel Mark begins his talk with the story of the Gibeonites who demanded that King David, in order to atone for King Saul's past crimes against them, have seven of Saul's male descendants executed. King David fulfilled this request but, as a result, the Gibeonites were never allowed to convert into Israel. Jewish interpretations of this ban explain that it was a result of the lack of mercy shown by the Gibeonites. Although they were entitled to demand justice, they should have chosen not to make this demand and shown mercy. Using this story, Daniel Mark helps us to imagine a world where mercy is shown within the political realm and people, although having a right to demand justice, may choose to be merciful and not always stand on those rights.
Daniel Mark explains the improvements that could be made if people treated strangers like they were family and then declared that American society needs "family home evening". Within the family, the chief virtue is mercy, not justice, and family success does not come from family members standing on their rights but relinquishing them. One of the side-effects of modern liberalism's focus on the individual is it undermines the effort to turn our society into a community or family. Therefore, defending religious freedom depends on promoting the family ethic within our communities so that society may be more inclined to relinquish their rights for the common good. Religious rights should still be robustly defended and respected but the free exercise of religious clause should not be invoked every time the government acts in a way that could be interpreted to infringe on personal religious freedom. By showing mercy, we can build a societal home, where we can all live together as a community and embrace differences, as opposed to building a hotel, where we section everyone off and allow them to be different in each of their respective rooms. As members of society get to know one another they can respect each other and religious freedom rights will be more protected.
In order to build this family ethic, religious believers need to be active within their communities. Getting involved with sports leagues, clubs, and other community groups creates a family like atmosphere in the community. These settings give people the opportunity to engage one another in settings outside of hostile politics or formal business. It is within these settings where those who value religion can show and share those values with others who, although they may not have faith of their own, can learn to respect religious beliefs and value their protection.