Religious Freedom and the Law: Emerging Contexts for Freedom for and from Religion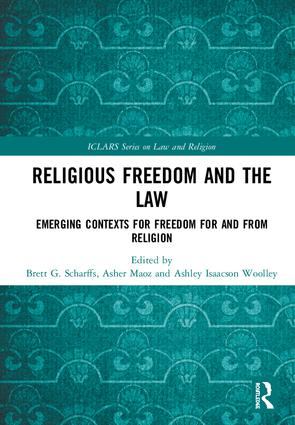 Professor Brett G. Scharffs, Rex E. Lee Chair and Professor of Law and Director of the International Center for Law and Religion Studies at BYU Law School, along with his colleague Asher Maoz, Dean, Peres Academic Center Law School, Israel, with the editorial assistance of lawyer / editor Ashley Isaacson Woolley, announce the publication of their book Religious Freedom and the Law: Emerging Contexts for Freedom for and from Religion (Routledge 2018). The chapters in this collection were developed from presentations at the Fourth Conference of the International Consortium for Law and Religion Studies (ICLARS), held in Oxford, UK, in September 2016.
This volume, which is part of the Routledge ICLARS Series on Law and Religion, presents a timely analysis of some of the current controversies relating to freedom for religion and freedom from religion that have dominated headlines worldwide. The collection trains the lens closely on select issues and contexts to provide detailed snapshots of the ways in which freedom for and from religion are conceptualized, protected, neglected, and negotiated in diverse situations and locations. A broad range of issues including migration, education, the public space, prisons and healthcare are discussed drawing examples from Europe, the US, Asia, Africa and South America. Including contributions from leading experts in the field, the book will be essential reading for researchers and policy-makers interested in Law and Religion.
Authors contributing to this book are international scholars in law and religion: Richard W. Garnett, Thomas Farr, Pamela Slotte, Frances Raday, David Pollock, Pierre Noël, Sister Renée Mirkes, Clemens Steinhilber, Maria Luisa Lo Giacco, Sarah Hayes, Jeroen Temperman, Ahmed Salisu Garba, Piotr Szymaniec, Armin Langer, Li-Ann Thio, and Oscar Díaz Muñoz.
A companion book developed from the same conference — Law, Religion, and Freedom: Conceptualizing a Common Right — and edited by W. Cole Durham, Jr., Javier Martinez Torron, and Donlu Thayer, is forthcoming in 2019.
Reviews
'An excellent book which demonstrates vividly the extraordinary significance and complexity of a wide range of contested issues surrounding the nature, scope and implications of religious freedom today – written by a distinguished team of scholars from multiple legal, religious and other perspectives, it is a richly-documented and invalubale resource.' — Professor Norman Doe, Director of the Centre for Law and Religion, The School of Law and Politics, Cardiff University, United Kingdom
'A timely and judicious collection of essays by established stars and erudite newcomers to the burgeoning international study of religious freedom. The new taxonomy of freedom of, for, from, and within religion is a valuable heuristic to map out the new issues facing persons and peoples of faith throughout the world. And several of the essays, especially on the treatment of religious pastors, proselytism, properties, and prisoners, are major new contributions. This collection deserves a place in every religious freedom library.' — John Witte, Jr., Center for the Study of Law and Religion, Emory University School of Law, USA