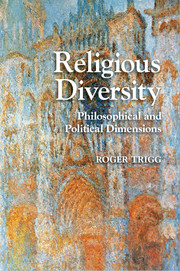 Religious Diversity: Philosophical and Political Dimensions
Roger Trigg
Cambridge University Press 2014
Should we merely celebrate diversity in the sphere of religion? What of the social cohesion of a country? There is a constant tug between belief in religious truth and the need for respect for other religions. Religious Diversity: Philosophical and Political Dimensions examines how far a firm faith can allow for toleration of difference and respect the need for religious freedom. It elucidates the philosophical credentials of different approaches to truth in religion, ranging from a dogmatic fundamentalism to a pluralism that shades into relativism. Must we resort to a secularism that treats all religion as a personal and private matter, with nothing to contribute to discussions about the common good? How should law approach the issue of religious freedom? Introducing the relevance of central discussions in modern philosophy of religion, the book goes on to examine the political implications of increasing religious diversity in a democracy.
First in the new series Cambridge Studies in Religion, Philosophy and Society
Established, well-known author
Deals with a major issue of contemporary importance: more wide, general readership than just university classrooms
Reviews
"A much-needed and illuminating discussion of both the philosophical and social issues of religious freedom and diversity in contemporary societies." – Keith Ward, University of Oxford
"This is the best single-authored overview and contribution to philosophical reflection on religious diversity in print. For both newcomers and experts, Religious Diversity offers an insightful engagement with questions about the truth of different religions, the role of religion in pluralistic democracies, and the political and cultural significance of religious diversity." – Charles Taliaferro, Chair of Philosophy, St Olaf College