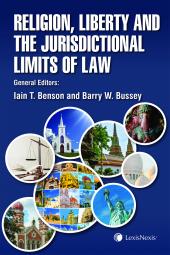 Religion, Liberty and the Jurisdictional Limits of Law
Iain T. Benson and Barry W. Bussey
LexisNexis Canada 2017
In recent years, law and religion scholarship in Canada has grown significantly. This distinctive collection of 18 papers addresses, from a variety of angles, the jurisdiction and the limits of law – an important but often overlooked aspect of settling the boundaries of church and state, religion and law. The volume draws the insights of 19 authoritative contributors of diverse background and examines changes in the role and meaning of religion in society, the dimensions of law and religion and finally, the conflicts between freedom of religion and other freedoms as looked upon as fundamental rights of a liberal society.
Features
Rich, international discourse on questions of worldwide concern – Includes contributions from leading universities in Australia, Canada, the Netherlands and the United Kingdom
Insightful analysis – Addresses tough philosophical questions
Diverse insights from judges, leading practitioners and academia – Offers balanced perspectives to controversial issues
The collection of papers:
Preface: What is Religion? – David Cayley
Introduction: The Limits of Law and the Liberty of Religious Associations – Iain T. Benson
PART I: RELIGION IN LIBERAL THOUGHT
Should There Be a Legal Presumption in Favour of Diversity? Some Preliminary Reflections – Iain T. Benson
Liberal Pluralism and the Challenge of Religious Diversity – Peter D. Lauwers
Constitutional Principles as State Territory – Paul Cliteur
PART II: RELIGIOUS FREEDOM OF RELIGIOUS ORGANIZATIONS
The Challenge and Promise of Religious Associations to Liberal Democratic Order – John von Heyking
The Social Ontology of Religious Freedom – Victor M. Muniz-Fraticelli
Religious Organizations' Right to Autonomy and Collisions with Other Fundamental Rights: an International Human Rights Law Analysis – Jeroen Temperman
The Requirement of Religious Neutrality: Civic Action and Institutional Autonomy – Richard Moon
PART III: PRIVATE CHOICES PUBLIC CONSEQUENCES
Conceiving Freedom of Religion in Terms of Obedience to Conscience – Ian Leigh
Should Conscience be a Proxy for Religion in Some Cases? – Richard Haigh
When Law, Religion and Family Meet: Private Choices, Religious Neutrality and the Liberal State – Anat Scolnicov
PART IV: THE CLASH OF RIGHTS
Judicial Method on Rights Conflicts in the Context of Religious Identity – Dwight Newman
Competing Rights under the Canadian Charter: Are Some Issues More Equal than Others? – Janet Epp Buckingham
Freedom of Religion, Competing Rights and Spatial Priority Presumptions – Alvin A. J. Esau
Religion and the Clash of Rights in the United Kingdom – Frank Cranmer
PART V: EQUALITY AND RELIGIOUS FREEDOM
Resolving Equality Uncertainty: Adverse-effects Claims and Conflicts Between Equality-seeking Claimants – Eugene Meehan QC, Marie-France Major and Thomas Slade
The Charter is Not a Blueprint for Moral Conformity – Barry W. Bussey
Add this to your library
Large religious organizations – need-to-know recent changes in the role and understanding of religion in modern culture, along with an exploration of the underlying philosophies of religion and modern culture
Counsel to religious institutions – unique resource for advising religious institutions on their standing in relation to legal obligations in Canada or elsewhere
Human rights organizations and counsel, constitutional law practitioners – valuable resource for understanding the evolution of legal approaches to conflicts between law and religion issues in order to formulate arguments in pleadings
Universities – current insight useful for sociology, religious studies, political philosophy and philosophy programs
Law school and university libraries – good reference for any studies on law and religion
Federal and provincial ministries and counsel – help for drafting policies concerning religious rights