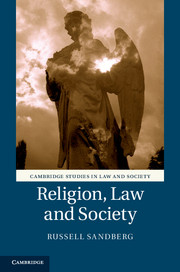 Religion, Law and Society
Russell Sandberg
Cambridge University Press 2014
Issues concerning religion in the public sphere are rarely far from the headlines. As a result, scholars have paid increasing attention to religion. These scholars, however, have generally stayed within the confines of their own respective disciplines. To date there has been little contact between lawyers and sociologists. Religion, Law and Society explores whether, how and why law and religion should interact with the sociology of religion. It examines sociological and legal materials concerning religion in order to find out what lawyers and sociologists can learn from each other. A groundbreaking, provocative and thought-provoking book, it is essential reading for lawyers, sociologists and all who are interested in the relationship between religion, law and society in the twenty-first century.
In-depth examination of the interaction between the legal and sociological study of religion will appeal to both lawyers and sociologists interested in religion and interdisciplinary collaboration
Interdisciplinary approach to the study of religion, law and society introduces readers to both legal and sociological materials in a way that is accessible for non-specialists
Draws new conclusions about the secularisation thesis and the place of religion today