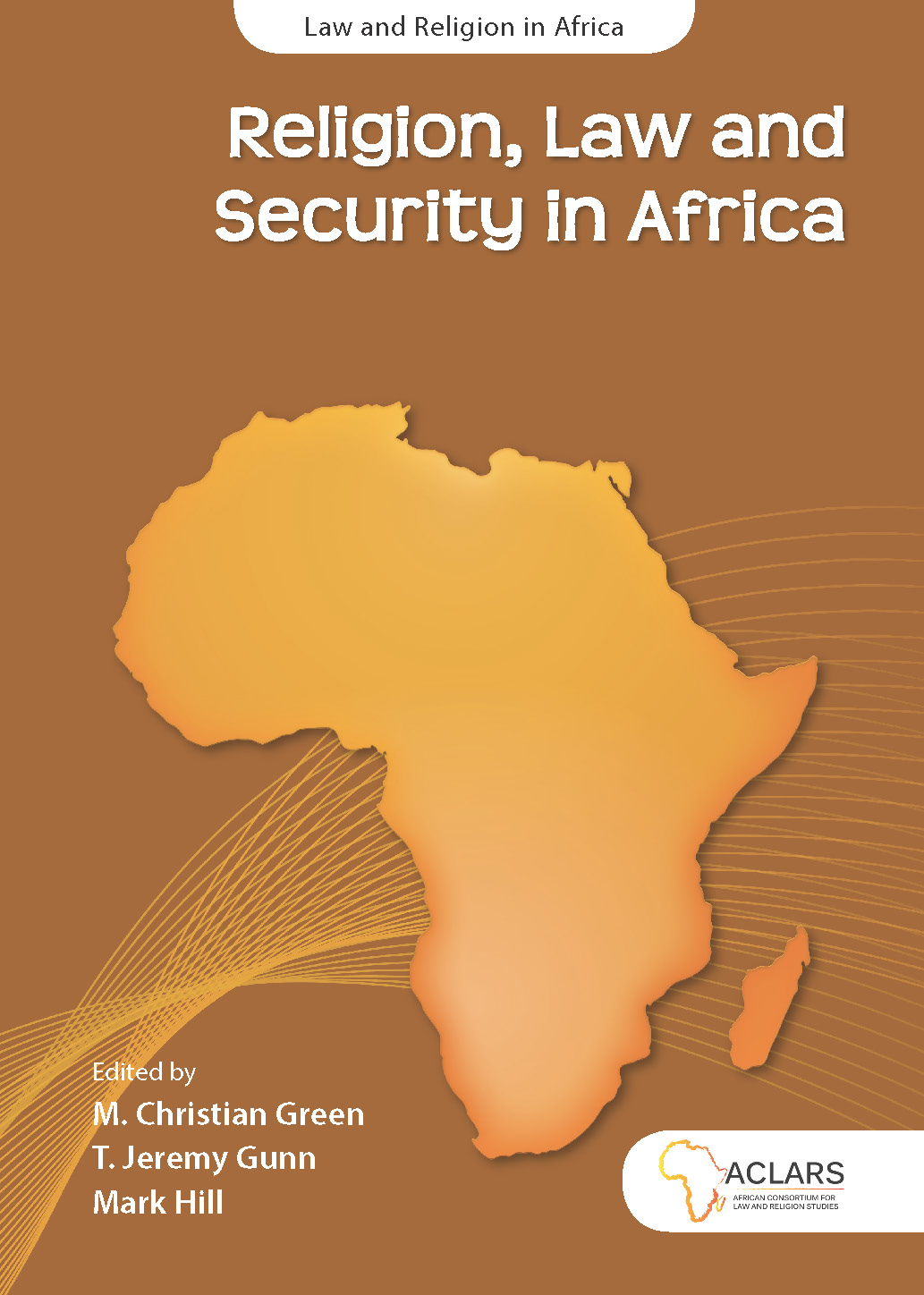 Religion, Law and Security in Africa
M. Christian Green, T. Jeremy Gunn, & Mark Hill, eds.
African Sun Media, May 2017
Security is a key topic of our time. But how do we understand it? Do law and religion take different views of it? In this fifth volume in the Law and Religion in Africa series, radicalisation, terrorism, blasphemy, hate speech, religious freedom and just war theories rub shoulders with issues of witchcraft, female genital mutilation circumcision, child marriage, displaced communities and additional issues besides. This unique collection of topics is both challenging and inspiring, providing illumination in troubled times, and forming a sound foundation for future scholarship.
Introduction
Author: M. Christian Green
https://doi.org/10.18820/9781928314431/00
Chapter 1: Curbing religious extremism of Boko Haram insurgency in Nigeria: Judicial interventionism and human rights absolutism
Authors: Wahab O. Egbewole & Hanafi A. Hammed
https://doi.org/10.18820/9781928314431/01
Chapter 2: Religious radicalism and security threats in the Sahel
Author: Seyni Moumouni
https://doi.org/10.18820/9781928314431/02
Chapter 3: The role of religion and religious freedom in responding to violent extremism
Author: Brett G. Scharffs
https://doi.org/10.18820/9781928314431/03
Chapter 4: Nigeria's blasphemy laws and the competing rights: Taming the self-appointed god avengers through judicial process
Author: Musa Usman Abubakar
https://doi.org/10.18820/9781928314431/04
Chapter 5: Blasphemy, religious defamation and hate speech: A comparison of the European Court of Human Rights and the Rabat Plan of Action
Author: Burkhard J. Berkmann
https://doi.org/10.18820/9781928314431/05
Chapter 6: Freedom of expression and freedom of religion: Drawing the lines between hate speech, blasphemy and free speech
Author: Cristiana Cianitto
https://doi.org/10.18820/9781928314431/06
Chapter 7: Secularity and exercise of religious freedoms in public service media in Côte d'Ivoire
Author: Célestin Gnonzion
https://doi.org/10.18820/9781928314431/07
Chapter 8: Socio-legal implications of the laws to combat religious extremism in Kenya
Author: Fathima Azmiya Badurdeen
https://doi.org/10.18820/9781928314431/08
Chapter 9: (Re)framing terror attacks in Kenya: Contrastive frames from the National Council of Churches of Kenya (NCCK) and the Evangelical Alliance of Kenya (EAK)
Author: Loreen Maseno
https://doi.org/10.18820/9781928314431/09
Chapter 10: The need for a substantive fatwa institution in countering violent extremism in Kenya
Author: Tito Kunyuk
https://doi.org/10.18820/9781928314431/10
Chapter 11: Religious foundations of the notion of bellum iustum
Author: Johan D. van der Vyver
https://doi.org/10.18820/9781928314431/11
Chapter 12: Counterterrorism and religious violence in Nigeria: A just war perspective on the doctrine of necessity
Authors: Simeon O. Ilesanmi & Kate E. Temoney
https://doi.org/10.18820/9781928314431/12
Chapter 13: The "Spirit of Assisi", or when religions commit to peace
Author: Jean-Baptiste Sourou
https://doi.org/10.18820/9781928314431/13
Chapter 14: Religion and the secular state order: The Ethiopian experience
Author: Mohammed Dejen Assen
https://doi.org/10.18820/9781928314431/14
Chapter 15: Securing body, space and structure through the powers of law and state: Some South African urban examples of displacement and reconciliation
Author: Yolanda van der Vyver
https://doi.org/10.18820/9781928314431/15
Chapter 16: Religion and law: The promise and perils of the Cameroon Land Law
Authors: Elias Kifon Bongmba & Tanto Richard Talla
https://doi.org/10.18820/9781928314431/16
Chapter 17: An anthropological study of "witch camps" and human rights in northern Ghana
Author: Saibu Mutaru
https://doi.org/10.18820/9781928314431/17
Chapter 18: Divisi witchcraft in contemporary Zimbabwe: Contest between two legal systems as incubator of social tensions among the Shona people
Author: Bernard Pindukai Humbe
https://doi.org/10.18820/9781928314431/18
Chapter 19: "He then became a lion": Witchcraft accusations in rural Mozambique
Author: Júlio Machele
https://doi.org/10.18820/9781928314431/19
Chapter 20: The legality of witchcraft allegations in colonial and postcolonial Zimbabwe
Author: Fortune Sibanda
https://doi.org/10.18820/9781928314431/20
Chapter 21: Conflictual insertion of marriage ordinances in British colonial Africa: The Ghanaian experience
Author: John G. Esubonteng
https://doi.org/10.18820/9781928314431/21
Chapter 22: Domestic violence legislation in Zimbabwe: Probing into the security of women in rural communities
Author: Elias G. Konyana
https://doi.org/10.18820/9781928314431/22
Chapter 23: Socio-cultural, economical and organisational determinants of child marriage in Cameroon
Author: Helen Namondo Linonge-Fontebo
https://doi.org/10.18820/9781928314431/23
Chapter 24: Women's rights and religion: Political and legal complexities affecting the domestication of CEDAW and the AU Women's Protocol in Nigeria
Author: Abiola Akiyode-Afolabi
https://doi.org/10.18820/9781928314431/24
Chapter 25: Female circumcision as an African problem: Double standards or harsh reality?
Author: Sohail Wahedi
https://doi.org/10.18820/9781928314431/25