'Religion, Economics and ASEAN Community" – Hanoi, 23-24 October 2017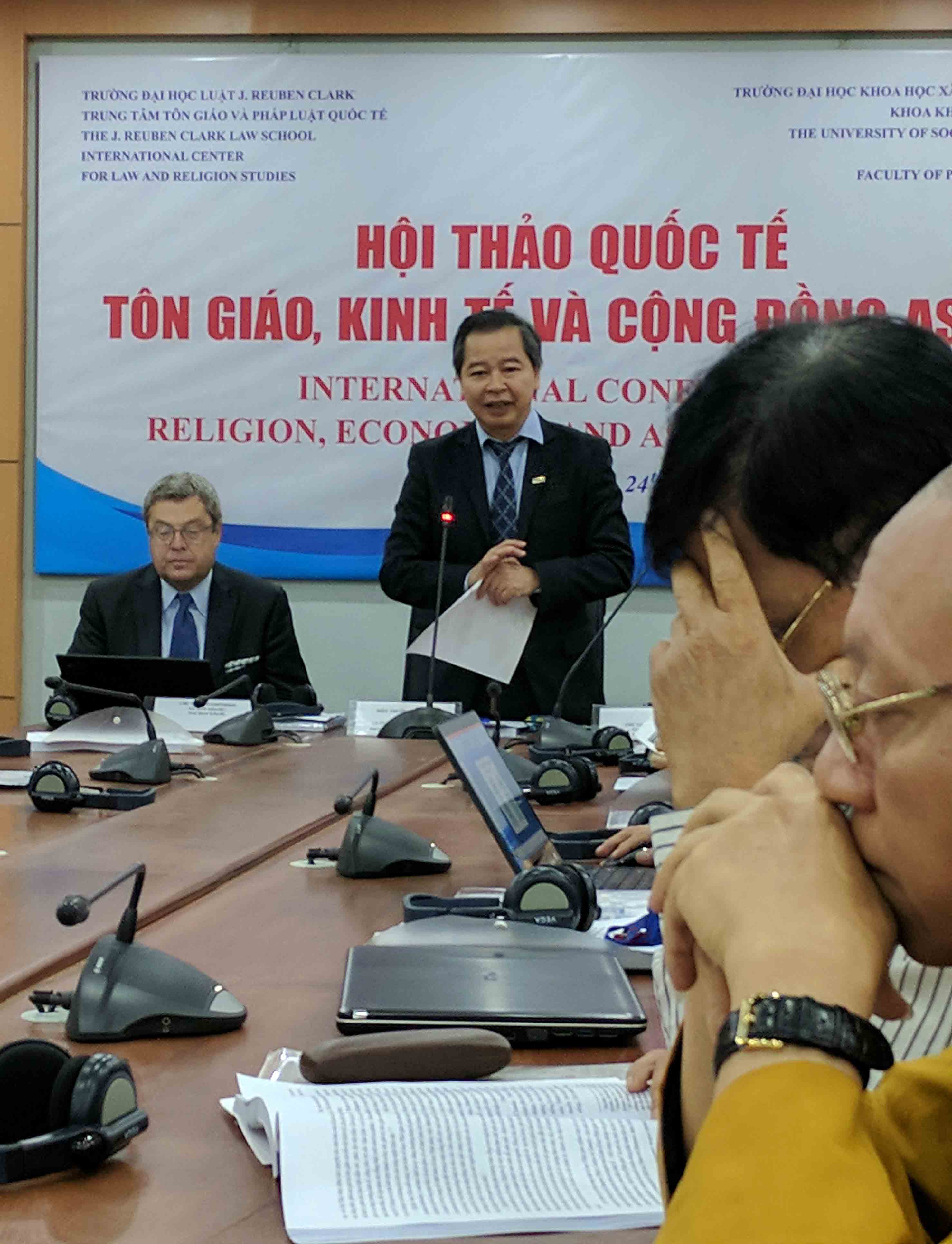 Report by Neville Rochow
On 23 and 24 October 2017, the International Center for Law and Religious Studies, represented by its director, Professor Brett Scharffs, took part in a conference at the Hanoi School of Social Sciences and Humanities. Professor Scharffs' participation continued what is now a more than decade-long tradition of partnership with the University of Social Sciences and Humanities in Hanoi and the Institute for Global Engagement in holding conferences on law, religion, and economics.
This year's conference was entitled 'Religion, Economics and ASEAN Community' and attracted expert speakers from a variety of academic disciplines and religious perspectives. Experts came from Vietnam, neighboring ASEAN countries, and from the United States and Australia.
The day before the formal proceedings commenced, international delegates were treated to wonderful Vietnamese hospitality during a tour from Hanoi to the nearby regions of Ninh Binh and Kim Son. At Ninh Binh, they visited the Bai Dinh Buddhist Pagoda. The temple at Bai Dinh is considered the largest in Vietnam. After lunch at Bai Dinh, delegates were taken to the Phat Diem Stone Church at Kim Son. Both sites impressed upon delegates how deeply religious conviction runs in Vietnam. A majority of the country identifies as Buddhist with a smaller, but still significant, number belonging to the Catholic Church.
The conference opened with welcome addresses from Professor Pham Quang Minh, Rector of the University of Social Sciences and Humanities and Professor Scharffs. It was obvious from the Rector's remarks how much his university appreciates the relationship with the Center and with Professor Scharffs. Professor Scharffs demonstrated in his opening address that the appreciation was mutual.
In the opening substantive session, Professor Scharffs then help set the tone for the conference theme in a discussion of the varying ways in which governments may respond to religion: eradicate; suppress; control; utilise; ignore; allow; encourage. He compared these varying responses to so many radio frequencies that, over time, will vary in bandwidth, reflecting changing governmental attitudes. This useful paradigm of varying frequency provided a way in which the theme of the conference could be explored across the different jurisdictions represented. Professor Scharffs developed this theme in subsequent sessions in which he presented on taxation and economics in relation to governmental regulation of religion in the ASEAN region and in other parts of the world..
Dr Brian Grim, from the United States, presented in the opening session and in a subsequent session on his most recent research on the strong correlation between freedom of religion and economic outcomes. The research showed that religion contributed $1.2 trillion annually to the United States economy. He also presented results of his ongoing research in South-East Asia and the contribution that religion makes to welfare in the region. It was plain that both the methodology and results of Dr Grim's research impressed conference delegates as to avenues of inquiry into their own national positions. Professor Do completed the opening session with important observations on the rule of law and religion.
Subsequent sessions of the conference offered a rich picture of learning and experience from international and Vietnamese presenters on the conference theme. The international presenters were Sheila Yussof (Malaysia), Professor Phallack Kong (Cambodia), Professor James Chen (United States), Professor Eugene Tan (Singapore), Professor Neville Rochow (Australia), and Professor Pascal Bourdeaux (France). The international expertise they brought to the conference on issues of legal regulation, religious econometrics, and sociology was augmented by several papers from Vietnamese experts. They each either spoke provided papers, coming from direct governmental, religious, sociological, and legal experience in the complexities of the interface of law, religion, and economics in the country: Do Quang Hung; Superior Thượng tọa Thích Bảo Nghiêm; Dương Văn Huy; Dr Le Ba Trinh; Trương Văn Chung; Nguyễn Thị Minh Ngọc.
In the concluding session, Dr Do summarised the essence of the conference papers and extended his heartfelt thanks to all and in particular his gratitude for the contributions of the international speakers. It was obvious from his remarks just how much he and his university value the partnership with the Institute for Global Engagement and BYU. Professor Scharffs similarly made clear how deeply that sentiment was reciprocated. He concluded the conference with anecdotes of three heroes, Father Nabil Haddad of Jordan, Ashin U Wi Thot Ta of Myanmar, and Professor Syamsul Arifin of Indonesia, each of whom had made wonderful sacrifices, in the cause of promoting freedom of religion.
On that note of great hope, the conference ended with new friendships made and old ones strengthened.