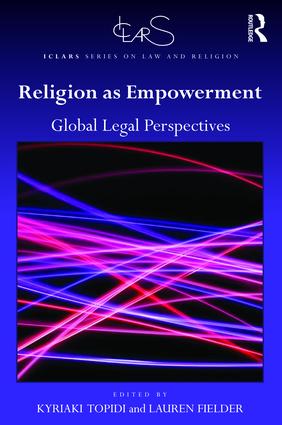 Religion as Empowerment
Kyriaki Topidi, Lauren Fielder
Routledge ICLARS Series on Law and Religion 2016
This volume shows how and why legal empowerment is important for those exercising their religious rights under various jurisdictions, in conditions of legal pluralism. At the same time, it also questions the thesis that as societies become more modern, they also become less religious.
The authors look beyond the rule of law orthodoxy in their consideration of the freedom of religion as a human right and place this discussion in a more plurality-sensitive context. The book sheds more light on the informal and/or customary mechanisms that explain the limited impact of law on individuals and groups, especially in non-Western societies. The focus is on discussing how religion and the exercise of religious rights may or may not empower individuals and social groups and improve access to human rights in general.
This book is important reading for academics and practitioners of law and religion, religious rights, religious diversity and cultural difference, as well as NGOs, policy makers, lawyers and advocates at multicultural jurisdictions. It offers a contemporary take on comparative legal studies, with a distinct focus on religion as an identity marker.
About the Editors
Dr Kyriaki Topidi is a Senior Lecturer at the School of Law of the University of Lucerne, Switzerland. She is also associate director of the Centre of Comparative Constitutional Law and Religion at UNILU. She teaches and researches on comparative constitutional law with emphasis on religious rights, on which she has published widely.
Lauren Fielder is a Senior Lecturer at the School of Law at the University of Texas, USA. She teaches, writes and speaks about human rights issues in Africa.