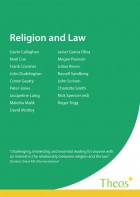 Religion and Law
Theos 2012
The proper relationship between religious commitment and the law of the land has always been contested and controversial. Nevertheless, the last 15 years have seen it become especially neuralgic in the UK, as ever more cases have found their way into the courts and the media.
Are human rights and religious commitment fully compatible? How far are minority legal orders permissible? Can freedom of conscience be reconciled with equality? What is the proper balance between Westminster and Strasbourg in such matters?
In this volume sixteen leading legal experts explore the relationship between religion and law in Britain today. None of the issues they examine is open to an easy or simple solution – and certainly not the old chestnut that "religion should be private". Each, however, is helped by application of intelligent and informed reflection, such as offered by the contributors.
Religion and Law offers some much needed light on an area all too often marked by its heat. It is invaluable reading for anyone who wishes to understand and contribute to one of the key debates of our time.
"Challenging, interesting and essential reading for anyone with an interest in the relationship between religion and the law. I don't agree with everything that is written but that is not necessary to still appreciate the sincerity and the quality of the arguments put forward. I recommend this book as offering insight and depth to anyone who is interested in this subject." The Rt Hon Dominic Grieve QC MP, Attorney General
"A rare volume: a collection of essays, written mainly from a religious perspective, that avoids preachiness and proselytising. It provides a useful introduction to some of the areas in which religion sometimes rubs up against the law, offering not only food for thought but also guidance on what may or may not be legal." Joshua Rozenberg, Legal Commentator
"This series of insightful essays from a broad range of experts both informs and illuminates this seemingly intractable topic, inevitably raising as many questions as it does answers." Archbishop Peter Smith