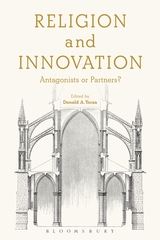 Religion and Innovation: Antagonists or Partners?
Donald A. Yerxa
Bloomsbury Academic Publishing 2015
About Religion and Innovation
It is often assumed that religion is backward-looking, that it is opposed to the new. This is a constant refrain in polemical writing; it has to some extent permeated the public mind and can even be found in academic publications. But recent scholarship has increasingly shown that this view is a gross simplification – that religious beliefs and practices have in fact widely contributed to many kinds of change in human affairs: political and legal, social and artistic, scientific and commercial. Religions have, in turn, been shaped by those innovative changes.
Religion and Innovation includes contributions from leading scholars from religious studies, archaeology, and the history of science, all of whom discuss their findings about the relationship between religion and innovation. The essays collected in this volume range from discussions of the transformative power of religion in early societies, to surprising re-examinations of the "secularization thesis," to explorations of cutting-edge contemporary issues.
With its combination of scholarly rigor and clear, accessible writing, Religion and Innovation: Past and Present is essential reading for anyone interested in the history of religion and the ongoing debates about its role in the modern world and into the future.