Reflections on 2011, Planning for a New Year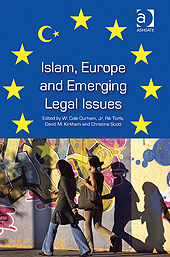 Reflecting on the endeavors of 2011 and plans and hopes for the coming year, it is fitting that we send this New Year's Greeting on January 16, Religious Freedom Day in the United States. This is a traditional day of celebration for our nation's commitment "to religious liberty not only for all Americans, but also for individuals around the world." As we celebrate this day, at the beginning of the 12th year of the official existence of the International Center for Law and Religion Studies, we recall 2011 as a year of exceptionally hard work, with exceptionally gratifying results.
During 2011, Center personnel, with the help of many friends and colleagues, organized, sponsored, and otherwise participated in some 48 conferences, training sessions, and other events worldwide, including the 18th Annual International Law and Religion Symposium here in Provo. In addition, the first Religious Freedom Discussion Series, co-sponsored by the J. Reuben Clark Society, was successfully completed, with six bi-monthly lectures, delivered by Center Directors on the BYU campus and available via live Internet webinar. Materials, including recordings of many of the lectures, are available on the ICLRS website. The Series will continue into its second year with a lecture by Director Cole Durham to be delivered on March 1, 2012.
Our Student Research Fellows from BYU's J. Reuben Clark Law School completed internships in ten foreign countries and two U.S. locations in Summer 2011, before returning to Provo to assist, along with Summer Externs from BYU and six other law schools, in Center research and writing projects. This summer students not only did excellent work with the annual update of the Treatise, Religious Organizations and the Law, now at four thousand pages in four volumes, but also had an experience few law students could ever expect: they made invaluable contributions to research and writing for an amicus brief in a landmark Supreme Court case.
In late March 2011, the United States Supreme Court agreed to hear the Hosanna-Tabor "ministerial exception" case, the "most important religious freedom case in twenty years." Two months later the Center was asked by the attorneys for the Petitioner (at the Becket Fund for Religious Liberty) to produce a brief providing an international perspective on the case. In just six weeks, Center personnel and student researchers, under the direction of Managing Director Robert Smith, completed the research, including consultation (print works and email correspondence) with some 60 of our international friends. In spite of an intense travel schedule by Director Cole Durham, the drafting of the 54-page brief was completed on time and in an excellent fashion under the direction of Elizabeth Clark, Associate Director of the Center.
None of us could have imagined the "huge win for religious liberty" that would come in this case: a breathtaking unanimous opinion in favor of the Petitioner, a Lutheran church and school, ratifying a heretofore unsettled First Amendment doctrine and securing the "ministerial exception" in American law. "The concurrence of Justices across the ideological spectrum will be felt for years," said the Wall Street Journal. "Hallelujah."
As a result of this decision, which according to one legal observer "may set one of the largest precedents in religious liberty in the last century," courts cannot inquire into whether a church has religious reasons for its decisions, including hiring and firing decisions, concerning its "ministers," and definitions of "who is a minister" are also left entirely within the province of churches. The church, said Chief Justice Roberts, writing for the unanimous Court, "must be free to choose those who will guide it on its way."
Another Center endeavor that is set to come to light in 2012 is the first volume in the long-awaited Islam in Europe series. Islam, Europe and Emerging Legal Issues, edited by Cole Durham, Rik Torfs, David Kirkham, and Christine Scott and published by Ashgate Publishers, UK, will appear the first week of Feburary.
As this newsletter is prepared, another important publishing event is underway: the first volume of the new Oxford Journal of Law and Religion is now available in online advance, with the print publication set to appear in late January. Center Director Cole Durham is one of journal's editors-in-chief; Center Managing Editor Donlu Thayer is one of the case note editors; and Associate Director Brett Scharffs is a member of the advisory board.
As you can read in the news pages of our websites – ICLRS, the Strasbourg Consortium, and the Religion and Law Consortium – all is not well for freedom of conscience, religion, or belief in many parts of the world. But we stand with former British Prime Minister Tony Blair in observing that "religion isn't dying, nor should it. … At the start of a new decade, it is time to take religion seriously." Because, as Mr. Blair asserts, "there will be no peace in our world without an understanding of the place of religion within it."
We invite you to visit our websites and to consult other sources of information on topics relating to these fundamental freedoms, including such studies as those of the Pew Research Center reproduced in this newsletter. There is much to be done, and, as always, we are grateful for your interest and invite your collaboration.
The International Center for Law and Religion Studies at Brigham Young University