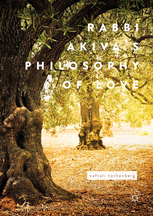 Rabbi Akvia's Philosophy of Love
Naftali Rothenberg
Springer 2017
Palgrave Macmillan 2017 (e-book)
This book explores the philosophy of love through the thought and life of Rabbi Akiva ben Joseph. Readers of the Talmud are introduced to Rabbi Akiva through the iconic story of his love for his wife Rachel. From this starting point, Naftali Rothenberg conducts a thorough examination of the harmonious approach to love in the obstacle-laden context of human reality. Discussing the deterioration of passion into simple lust, the ability to contend with suffering and death, and so forth, Rothenberg addresses the deepest and most pressing questions about human love. The readings and observations offered here allow readers to acquire the wisdom of love—not merely as an assemblage of theoretical arguments and abstract statements, but as an analysis of the internal contradictions and difficulties revealed in the context of attempts to realize and implement harmonious love.
Naftali Rothenberg is a senior research fellow at the Van Leer Jerusalem Institute, and the Rabbi of Har Adar township, Israel.