Professors Durham, Clark, and Lindholm at Russian-Language Launch of Freedom of Religion and Belief: A Deskbook – Moscow and Kyiv, 3 and 5 August 2010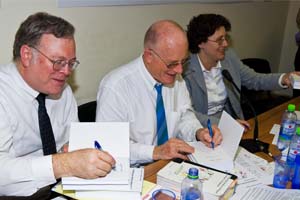 ICLRS Director Cole Durham and Associate Director Elizabeth Clark, along with ICLRS Academic Advisory Board Member Tore Lindholm of the Norwegian Centre for Human Rights, University of Oslo, participated in the launch of the Russian translation of Facilitating Freedom of Religion or Belief: A Deskbook during events in Moscow and Kyiv on 3 and 5 August 2010. As main speakers at the Moscow event, held at the Slavic Legal Center, Professors Durham, Sewell, and Lindholm were joined in the presentation by discussion moderator Roman Lunkin, director of the Institute of Religion and Law and Senior Scientist, Institute of Europe. Other presenters – journalists, scientists, lawyers, and believers of different faiths – included the chairman of the Moscow Helsinki Group, Lyudmila Alekseeva; Professor Anatoly Pchelintsev of Indiana University, chief editor of "Religion and Law" and co-chair of the Slavic Legal Center; Vladimir Ryakhovsky, a lawyer and co-chair of the Slavic Legal Center; and Professor Anatoly A. Krasikov, director of the Center for the Study of Religion and Society, Institute of Europe.
The Deskbook, a unique collection of articles by leading scholars and experts in the field of religion and law from around the world, is designed as a single-volume resource for all who are concerned with facilitating improved global compliance with international standards in freedom of religion or belief (FORB). A focus of the work is the protection of freedom of conscience in the Council of Europe, through the jurisprudence of the European Court of Human Rights.
The initial collection of 38 articles by 50 international scholars was published on the initiative of the Coalition of Freedom of Religion or Belief in Oslo (Norway) in 2004 in honor of the 20th anniversary of the Declaration on the Elimination of All Forms of Intolerance and of Discrimination Based on Religion or Belief, issued by Koninklijke Brill NV and printed in the Netherlands (Martinus Nijhoff Publishers). Editors of the work are Tore Lindholm, W. Cole Durham, Jr., and Bahia G. Tahzib-Lie, with an Editorial Board consisting of Elizabeth Sewell, Lena Larsen, Lev Simkin, and Roman Lunkin.
The Russian edition is a translation of selected articles from original the collection, divided into 12 chapters and an Introduction, with an additional chapter specifically devoted to the sphere of freedom of religion and belief in Russia (article by Anatoly Pchelintsev: "Citizens' constitutional right to freedom of religion and the problems of its realization in the Russian Federation"). The was project was brought about by the efforts of the ICLRS in collaboration with the Institute of Religion and Law and the Norwegian Centre for Human Rights, University of Oslo.
The Deskbook has also been published in Indonesian, and a translation into Mandarin Chinese is underway.