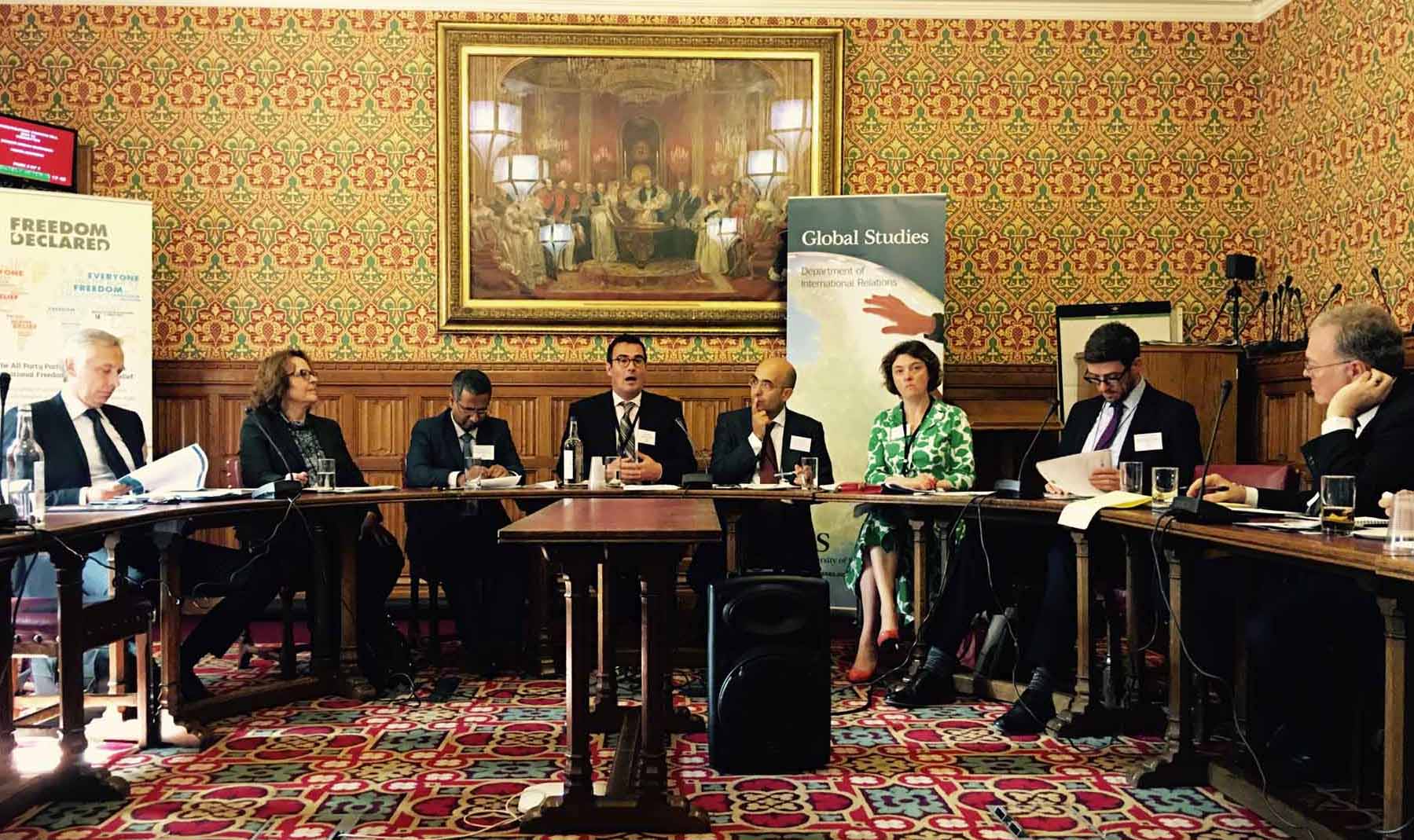 Professors Cole Durham and Brett Scharffs were invited to participate in the Freedom of Religion or Belief Policy Dialogue on 7 September 2016 at the Houses of Parliament in London, United Kingdom. Convened by the All Party Parliamentary Group for International Freedom of Religion or Belief (APPG FoRB), the event was structured around two panels, each focused on specific recommendations made in a Policy Brief titled 'FoRB – Recognising our differences can be our strength: Enhancing transatlantic cooperation on promoting Freedom of Religion or Belief'.
Key recommendations made in the brief were:
Draw upon transatlantic church-state differences as an asset
'IRF' vs 'FoRB' – Be mindful of the subtle differences in language
Seek collaboration between 'religious freedom' and 'religious engagement'
Upgrading the listening mode – enhance knowledge of and training on FoRB
Build coalitions and new multilateral strategies to engage FoRB violators
Bolster the nascent multinational and transnational FoRB networks
Share stories of struggling with religious diversity
The first panel discussed 'Emerging Multilateral and Multilevel Strategies to Protect FoRB: Challenges and Prospects'. Their task was to reflect on the global context and general shift of policy emphasis in the Policy Brief, in particular discussing the prospects and challenges of recommendations 5, 6, and 7. Members of this panel included Jan Figel, Special Envoy for FoRB outside the EU; Ahmed Shaheed, incoming UN special rapporteur on FoRB; and Victoria Alvarado, incoming Senior Advisor and Former Director, Office of International Religious Freedom US Department of State. Professor W. Cole Durham acted as Discussant for this panel.
The second panel's focus was 'Building on Different State-Church Relations and Religious Engagement to Enhance FoRB Abroad: A way forward?' They discussed the policy implications of recommendations 1, 2, 3, and 4 with a focus on concrete actions and projects. Members of this panel included Andrew Bennett, Former Head of the Canadian Office of Religious Freedom; Sue Breeze, Head, Stable World Team (Freedom of Religion/Post-Holocaust), FCO; Peter Mandaville, Senior Advisor, Religion and Global Affairs, US Department of State; and Arne Brandsma, Policy Officer for Freedom of Religion and Belief, Human Rights Department, MFA of the Netherlands. Silvio Ferrari, University of Milan & Honorary President of ICLARS, acted as Discussant.
Co-sponsors of the event were the International Center for Law and Religion Studies (ICLRS) or the Brigham Young University Law School (USA), the International Consortium for Law and Religion Studies (ICLARS), headquartered in Milan; and the British Council.