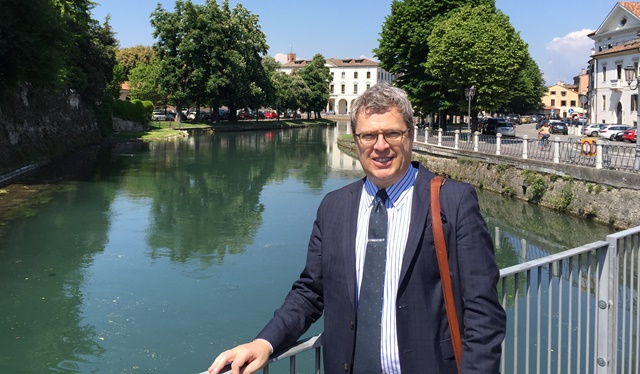 At a recent gathering of a select group of university professors, businesspeople, NGO organizations, and students in Padua, Italy on 6 May 2016, Professor Brett Scharffs made a dinner presentation and led a discussion on the topic of the role that religious majorities play in either promoting or limiting religious freedom. The presentation was organized by the Associazone Culturale Antonio Rosmini, Padova.
In his presentation, Professor Scharffs noted that in most countries where there is a dominant religious group representing more than 70% of the population, social science research finds there is usually high or very high legal restrictions on freedom of religion, as well as high or very high social hostilities based on religion. But Catholic-majority countries represent a stark exception to this general rule. Professor Scharffs attributed this dramatic difference to the teachings of the Catholic Church in defense of religious freedom, particularly those that are evident in the Vatican II document Dignitatis Humanae, which has just celebrated its 50th anniversary.
Professor Scharffs suggested that 200 years ago, and perhaps even 100 years ago, if you asked the question, "What is the most powerful institution on earth opposed to religious freedom?", the answer might well have been, "The Catholic Church." Today if you asked the question, "What is the most powerful institution on earth in support of religious freedom?", the answer in all probability would be, "The Catholic Church." Scharffs posits that this suggests that religious institutions, finding the resources within their own traditions to defend religious freedom, are likely to be the most powerful advocates of freedom of religion. He also suggested that other religious traditions can learn from the experience of the Catholic Church.
The presentation was based upon a paper that will be published in the Notre Dame Law Review, part of a symposium commemorating the fiftieth anniversary of Dignitatis Humanae.