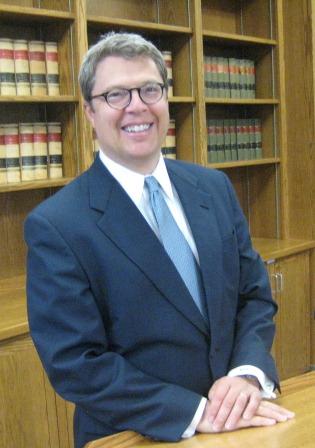 Brett G. Scharffs, Francis R. Kirkham Professor of Law and Associate Director of the International Center for Law and Religion Studies at the J. Reuben Clark Law School, presented a lecture, "Accommodating Conscience: The HHS Contraception Mandate and the Problems Arising from General and Neutral Laws," as part of the Center's Religious Freedom Discussion Series, on 5 September 2012 at Brigham Young University. A video recording (mp4) of the presentation is available for download here.
Professor Scharffs is a graduate of Georgetown University, where he received a B.S.B.A in international business and an M.A. in philosophy. He was a Rhodes Scholar at Oxford University, where he earned a B.Phil in philosophy. He received his J.D. from Yale Law School, where he was Senior Editor of the Yale Law Journal. He was a law clerk on the U.S. Court of Appeals, D.C. Circuit, and worked as a legal assistant at the Iran-U.S. Claims Tribunal in The Hague. Before teaching at BYU, he worked as an attorney for the New York law firm, Sullivan & Cromwell. He has previously taught at Yale University and the George Washington University Law School, and is a visiting professor each year at Central European University in Budapest.
Professor Scharffs' teaching and scholarly interests include comparative law and religion, philosophy of law, and international business law. Co-author with his colleague, W. Cole Durham, Jr. of the groundbreaking casebook Law and Religion: U.S., International, and Comparative Perspectives, he is awaiting publication of his Law and the Limits of Logic, which will be published by Harvard University Press. The author of more than 50 articles and book chapters, he has made more than 150 scholarly presentations in some 20 countries.
In his September 5 lecture, Professor Scharffs addressed a timely matter of much current public debate in the United States, the controversies over HHS (Health and Human Services) mandates concerning insurance coverage by religiously-affiliated employers for contraception. This debate illustrate problems that arise when conscience comes into conflict with what are often described as general and neutral laws. Professor Scharffs traced the history of this conflict and various way of conceptualizing it, arguing that the idea of conscience must include not only an individual dimension, but also and perhaps counter-intuitively, an institutional one as well. He also urged that our understanding of what is and is not a general and neutral law must be revisited, arguing that thinking of this type of problem as primarily one of being "dissenters" seeking an "exemption" is conceptually flawed and exacerbates the difficulties of finding solutions. Professor Scharffs proposes a different way of framing and approaching such problems, in legislation and adjudication, that draws upon a more realistic view of legislation and a more nuanced understanding of equality. His approach draws upon examples, recent and historical, from the U.S., United Kingdom, the European Court, Japan, South Africa and elsewhere.