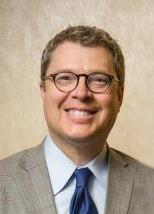 J. Reuben Clark Law School Dean James R. Rasband has announced the appointment of Brett G. Scharffs as Associate Dean of Academic Affairs, effective July 1, 2013. Professor Scharffs, Francis R. Kirkham Professor of Law, joined the BYU Law School in 1997. He has been the Associate Director of the International Center for Law and Religion Studies for the past four years. His scholarly interests include comparative law and religion, philosophy of law, and international business law.
Professor Scharffs is a graduate of Georgetown University, where he received a B.S.B.A in international business and an M.A. in philosophy. He was a Rhodes Scholar at Oxford University, where he earned a B.Phil in philosophy. He received his J. D. from Yale Law School, where he was Senior Editor of the Yale Law Journal.
Professor Scharffs was a law clerk for Judge David B. Sentelle on the U. S. Court of Appeals, D. C. Circuit, and worked as a legal assistant at the Iran-U.S. Claims Tribunal in The Hague. Before teaching at BYU, he worked as an attorney for the New York law firm Sullivan & Cromwell. He has previously taught at Yale University and the George Washington University Law School, and he is a visiting professor each year at Central European University in Budapest and is a regular contributing scholar in law education programs in China and Vietnam.
In his sixteen-year academic career, Professor Scharffs has written more than 60 articles and book chapters and has made more than 150 scholarly presentations in more than 20 countries. His casebook, Law and Religion: U.S., International, and Comparative Perspectives, co-written with his colleague, W. Cole Durham, Jr., was published by Aspen /WoltersKluwer in early 2010. The work had been translated into Chinese and Vietnamese, and the second English edition will appear in 2014. He has served as chair of the Law and Religion Section of the Association of American Law Schools (AALS) and is currently chair-elect of the section on Law and Interpretation. Professor Scharffs is a member of the Advisory Board of the Oxford Journal of Law and Religion.
Professor Scharffs is married to Deirdre Mason Crane Scharffs and has three children, Elliot, Sophelia, and Ella. He enjoys coaching his son's baseball team, riding his mountain bike, and golf.