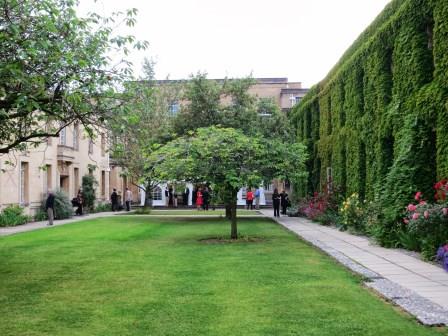 The first Oxford Journal of Law and Religion Summer Academy was held 17-21 June 2013 at Regent's Park College and Harris Manchester College, Oxford, UK. Featured themes of the Academy included religious rights, religious minorities, iinternational law and international relations; law, religion and politics in the Middle East; legal protection of holy places; political theology; and international law and the Christian tradition. Speaking and chairing panels at the Academy were Oxford Journal of Law and Religion Editors-in-Chief Cole Durham and Julian Rivers, as well as Peter Petkoff, the Journal's Managing Director, and Donlu Thayer, Journal Case Note Editor. Other Journal editors attending were Jessica Giles, Case Note Editor, Rhodri Jackson, Senior Publisher and Open Editor, and Maxine Daniels, Senior Production Editor.
Featured speakers included international experts Pasquale Annicchino, Heiner Bielefeldt, Raymond Cohen, Joseph David, W. Cole Durham, Jr., Peter Edge, Leonard Hammer, Kent Greenawalt, Robin Griffith-Jones, Mark Janis, Merilin Kiviorg, Nathan Lerner, Christopher McCrudden, John Milbank, Joan O'Donovan, Oliver O'Donovan, Anthony O'Mahoney, Robert Ombres, Matthias Rohe, Naftali Rothenberg, Brett Scharffs, Daniel Seidermann, Yuri Stoyanov, Scott Thomas, Roger Trigg, Renata Uitz, Marco Ventura, Lucy Vickers, Michael Wiener, Robin Fretwell-Wilson, and Gary Wilton, as well as Farrah Ahmed, Rinaldo Cristofori, Angela Wu Howard, David Kirkham, Bradley Miller, Jane Norton, Thomas Pink, and James Rasband.
Co-organizers of the Academy included the Oxford Society for Law and Religion; Becket Institute, Oxford; Centre for Christianity and Culture; Regent's Park College, Oxford; Brunel Law and Religion Research Group; Balliol Interdisciplinary Institute; Bristol Centre for Law and Religion; FORB Focus; and the International Center for Law and Religion Studies, Brigham Young University.