Oxford Conference on Law and Religion – United Kingdom, 7-9 June 2010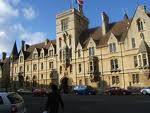 The International Center for Law and Religion Studies at Brigham Young University was among the institutional organizers of the Oxford Conference on Law and Religion, held from 7-9 June 2010 on the historic grounds of Balliol College, Oxford. Under the organizational leadership of Dr. Peter Petkoff, the three-day event was sponsored by the Oxford Society for Law and Religion, the University of Bristol School of Law, the International Consortium for Law and Religion Studies at Milan, and the Strasbourg Consortium. Other institutional supporters included Focus on FORB, the Centre for Christianity and Culture at Regent's Park College, Brunel Law School, Oxford Brookes University, and the House of St. Gregory and St. Macrina.
The multi-faceted Conference program elicited a range of perspectives from theologians, sociologists, historians, law professors and attorneys with presentations that provided historical context and tendered thoughtful analytical frameworks for addressing complex religious freedom issues. In addition, panels of experts shared their cutting-edge analyses of current issues that have recently arisen before UN bodies and the European Court of Human Rights, such as defamation of religion, identity cards, religious symbols, protection of holy places, religious employment, and proselytism. Professors Malcolm Evans and W. Cole Durham concluded the conference in the Balliol Chapel by inviting participants to continue to add to the body of scholarship on key issues, to freely advance additional ideas on ways to further the work of freedom of religion or belief, and to contribute to the Strasbourg Consortium website.
Distinguished participants in the event included Professor Eileen Barker, Professor Marshall Breger, Dr. Sebastian Brock, Elizabeth K. Cassidy, Professor Lisbet Christofferson, Dr. Cristiana Cianitto, Professor Perry Dane, Professor Peter Edge, Professor Carolyn Evans, Professor Silvio Ferrari, Professor Paul Fiddes, Dr. Nazila Ghanea, Reverend Dr. Evaldo Xavier Gomes, Professor Steven K. Green, Professor Leonard Hammer, Professor Mark Hill, Dr. Nusharraf Hussain, Dr. David M. Kirkham, Professor Levent Köker, Professor Christopher McCrudden, Professor Mark Movsesian, Dr. Joan Lockwood O'Donovan, Dr. Javier Oliva, Dr. Emre Oktem, Matthew Richards, Professor Julian Rivers, Professor David Robertson, Professor Brett G. Scharffs, Are L. Svendsen, Professor Robert W. Thomson, Professor Renata Uitz, Professor Marco Ventura, Professor Lucy Vickers, The Most Reverend Dr. Kallistos Ware, Michael Wiener, Dr. Katya Ziegler. Rev. Fr. David-Maria Jaeger and Professor Robert Destro participated via live video teleconferencing.