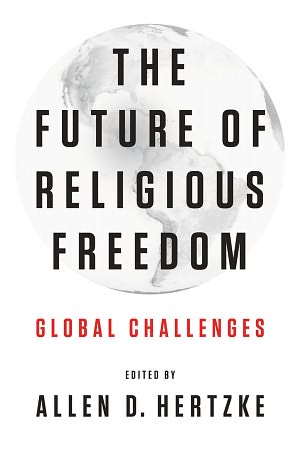 The Future of Religious Freedom: Global Challenges, edited by Allen D. Hertzke, Presidential Professor of Political Science at the University of Oklahoma, is now available from Oxford University Press. The book's first chapter, "The Status of and Threats to International Law on Freedom of Religion or Belief," was authored by Professor W. Cole Durham, Jr., Director of the International Center for Law and Religion Studies (ICLRS), President of the International Consortium for Law and Religion Studies (ICLARS), and Co-Editor-in-Chief of the Oxford Journal of Law and Religion; assisted by Matthew K. Richards, member of the First Amendment & Religious Organizations section and shareholder with the law firm Kirton McConkie; and Donlu D. Thayer, ICLRS Managing Editor and a Case Note Editor of the Oxford Journal of Law and Religion.
Publisher's Description of the Book
What is the status of religious freedom in the world today? What barriers does it face? What are the realistic prospects for improvement, and why does this matter? The Future of Religious Freedom addresses these critical questions by assembling in one volume some of the best forward-thinking and empirical research on religious liberty, international legal trends, and societal dynamics. Top scholars from law, political science, diplomacy, sociology, and religion explore the status, value, and challenges of religious liberty around the world – with illustrations from a wide range of historical situations, contemporary contexts, and constitutional regimes.
With a thematic focus on the nature of religious markets and statecraft, the book surveys conditions in different regions, from the Muslim arc to Asia to Eastern Europe. It probes dynamics in both established and emerging democracies. It features up-to-date treatments of such pivotal nations as China, Russia, and Turkey, as well as illuminating new threats to conscience and religious autonomy in the United States and in kin countries of the English speaking world. Finally, it demonstrates the vital contribution of religious freedom to inter-religious harmony, thriving societies, and global security, and applies these findings to the momentous issue of advancing freedom and democracy in Islamic cultures.
Features
Provides up-to-date scholarship on international legal trends in religious freedom
Includes top international scholars from multiple fields, as well as prominent advocacy voices
Reviews
"A showcase of 15 brilliant essays on religious freedom by leading experts from around the world." — Muscat Daily
"A good editor brings together a range of experts to explore a topic from a variety of perspectives. The resulting book covers more ground with excellence than could be accomplished by a single author. Allen Hertzke, Presidential Professor of Political Science at the University of Oklahoma and past president of Christians in Political Science, is a good editor." —Christians in Political Science
"A judicious and thought-provoking collection, deserving of a wide audience… Taken together, the essays teach the importance of attending to the specific historical processes by which religious freedom is realized in each particular place. One size does not fit all; one Declaration cannot change the world." — First Things
"Allen Hertzke is among the most distinguished scholars in the rapidly expanding field of religious freedom studies. Drawing on his own wide-ranging expertise , he has assembled a breathtakingly diverse team of international scholars to give us The Future of Religious Freedom – what is surely the most comprehensive and theoretically sophisticated volume available on religious freedom's present condition and future prospects." — Timothy Shah, Associate Director & Scholar in Residence with the Religious Freedom Project at Georgetown's Berkley Center for Religion, Peace & World Affairs and author of Religious Freedom: Why Now? (2012)
"This splendid collection of essays is a treasure trove of insight into the challenges and the promise of religious freedom in our diverse and increasingly interdependent world. It is a realistic yet profoundly hopeful work by some of the finest thinkers in the field."— Mary Ann Glendon, author of The Forum and the Tower: How Scholars and Politicians Have Imagined the World from Plato to Eleanor Roosevelt
"A superb collection on this urgently important topic." — Rodney Stark, co-director, Institute for Studies of Religion, Baylor University
Table of Contents
Introduction: Advancing the "First Freedom" in the 21st Century
Allen D. Hertzke
The Status of Religious Freedom
Chapter 1, The Status of and Threats to International Law on Freedom of Religion or Belief
W. Cole Durham, Jr., Matthew K. Richards, and Donlu D. Thayer
Chapter 2, Leveraging Legal Protection for Religious Liberty
Angela Wu Howard
Chapter 3, Restrictions on Religion in the World: Measures and Implications
Brian J. Grim
Religious Markets, Pluralism, and the State
Chapter 4, Religious Pluralism, Political Incentives, and the Origins of Religious Liberty
Anthony Gill
Chapter 5, Oligopoly Dynamics and the Triple Religious Markets in China
Fenggang Yang
Chapter 6, The Status of and Challenges to Religious Freedom in Russia
Roman Lunkin
Church-State Challenges in Democratic States
Chapter 7, From Solidarity to Freedom: The Mixed Fortunes of Churches in Post-Communist Eastern Europe
Jonathan Luxmoore
Chapter 8, Models of State-Religion Relations in Western Europe
Silvio Ferrari
Chapter 9, Emerging Challenges to Religious Freedom in America and Other English-Speaking Countries
Gerard V. Bradley
Constitutional Models, Law, and Islamic Experience
Chapter 10, Assertive and Passive Secularism: State Neutrality, Religious Demography, and the Muslim Minority in the United States
Ahmet T. Kuru
Chapter 11, Identity, Social Repression, and Public Policy: A Case Study of Anatolian Towns
Binnaz Toprak
Chapter 12, Are Muslim Democrats a Threat to Secularism and Freedom of Religion? The Turkish Case
Talip Kucukcan
Chapter 13, Human Rights in Islamic Jurisprudence: Why Should All Human Beings Be Inviolable?
Recep Sentürk
Religious Freedom, Global Security, and Diplomacy
Chapter 14, Religious Freedom and Global Security
Chris Seiple and Dennis R. Hoover
Chapter 15, Religious Freedom and International Diplomacy
Thomas F. Farr