National Religious Freedom Day Commemorates Jefferson's Landmark Statute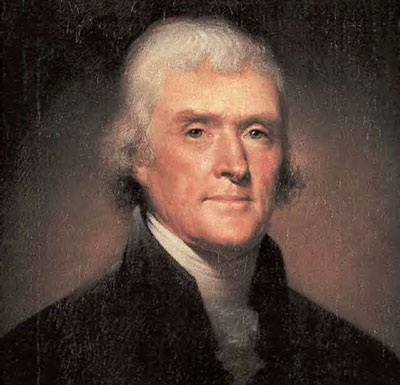 13 January 2011 – Richmond, Virginia
Each year, by Presidential Proclamation, the United States marks National Religious Freedom Day on January 16, the anniversary of the adoption in 1786 by the Virginia General Assembly of Thomas Jefferson's Virginia Statute for Religious Freedom. This landmark document became the basis for the American notion of separation of church and state, and it led to freedom of religion for all Americans as protected in the religion clause of the First Amendment of the U.S. Constitution. The day is commemorated each year by the First Freedom Center in Richmond, Virginia, with a First Freedom Award banquet. At the 2011 banquet, held on January 13, three advocates of religious liberty were honored with international, national, and state awards.
The 2011 International First Freedom Award was presented to Asma Jahangir, an advocate of the Supreme Court of Pakistan and former special rapporteur on freedom of religion or belief to the United Nations.
The 2011 National First Freedom Award recipient was John Graz, who has served secretary-general of the nonsectarian International Religious Liberty Association, organized in 1893 by the Seventh-day Adventist Church.
The 2011 Virginia First Freedom Award went to J. Brent Walker, executive director of the Washington-based Baptist Joint Committee for Religious Liberty and adjunct professor at the Baptist Theological Seminary at Richmond.
Previous recipients of International First Freedom Awards include
H.E. Kyai Haji Abdurrahman Wahid, Muslim religious and political leader who served as president of Indonesia from 1999 to 2001 (2010)
W. Cole Durham, Jr., Susa Young Gates Professor of Law and Director of the International Center for Law and Religion Studies at Brigham Young University (2009)
Jakob Finci, President, Jewish Community of Bosnia and Herzegovina; President, La Benevolencija (Jewish cultural, educational and humanitarian society of Bosnia and Herzegovina) (2008)
Václav Havel, former President Czechoslovakia, and subsequently Czech Republic; active in human rights initiatives Charter 77, the Velvet Revolution and Shared Concern Initiative (2006)
Tony Blair, Prime Minister of Great Britain (1999)
In 2007, the Honorable Madeleine K. Albright, former U.S. Secretary of State and chairwoman, National Democratic Institute for International Affairs, received the Distinguished Service Award.