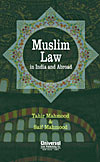 Muslim Law in India and Abroad
Tahir Mahmood and Saif Mahmood
Universal Law Publishing Co. Pvt. Ltd. 2012
Muslims are the second largest religious community of India and therefore their personal law constitutes an important chapter of the Nation's legal system.
This book offers a comprehensive study of the entire gamut of Muslim law as applicable in India. Extensive critiques of each of the legislative enactments of India in this sphere are followed by a lucid exposition of the principles of uncodified Muslim law in their true spirit and in conformity with the present-day social conditions. With a view to inviting attention to the contemporary understanding of Muslim law elsewhere, the book ends with glimpses of its reform in many of the Muslim-dominated and Muslim-minority countries.
Texts of all statutory laws of India on the subject are included in the book and cases coverage is until January 2012.