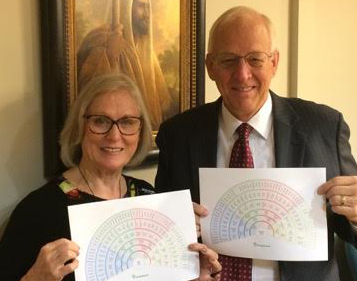 Diane W. Wilkins is a graduate of the University of Utah in political science (B.S. '75,  cum laude) and Law (JD '78).  She has been a Deputy County Attorney, an Assistant Attorney General, Deputy Chief of Staff to the Governor, and a state level trial judge, all in Utah.  Judge Wilkins served as Associate Area Legal Counsel for The Church of Jesus Christ of Latter-day Saints in the 19 countries of the Church's Pacific Area (2014-2016), and most recently completed service as an International Fellow of the ICLRS in Europe (2017-2019), living in both Brussels, Belgium and later in Strasbourg, France.  That assignment took her to a number of European countries meeting with government officials, judges, scholars, and others interested in the cause of religious liberty and the rule of law.  During her professional career she has served in a variety of leadership roles in governmental, judicial, civic, and religious organizations.
Prior to her appointment to the bench, Judge Wilkins was a founding member of the University of Utah College of Law Alumni Association, a founding member and first President of Women Lawyers of Utah, a member of the Board of Directors of the Salt Lake Community Services Council.  She has been a frequent speaker on issues of child and family law and relations to legal, judicial, and civic groups.  As a judge, she was elected by her peers as Presiding Judge of Utah's Second District Juvenile Court, and as President of the state-wide Board of Juvenile Court Judges.  She also served as the judicial representative on the Utah Commission on Criminal and Juvenile Justice.
Michael J. Wilkins is a graduate of the University of Utah (B.S. '75) (JD '77) and the University of Virginia Law School (LL.M. '00).  After time in private law practice in Salt Lake City, he was appointed a judge of the Utah Court of Appeals (1994-2000), and later as a Justice of the Utah Supreme Court (2000-2010).   Justice Wilkins has enjoyed serving as an Associate Area Legal Counsel (2014-2016) in the Pacific area of the Church, and an International Fellow of the ICLRS (2017-2019) in Europe.  He presently serves as Chair of the Utah Commission on Uniform State Laws (2007-present), and a member of the European Law Institute (2018-present).  He has been an adjunct lecturer in law at the J. Reuben Clark Law School, Chair of the Utah Legislative Ethics Commission, a Utah Bar Examiner, and served in other governmental, judicial, civic, and religious positions.
In 2005, as part of the Central European Law Initiative, both Justice and Judge Wilkins visited Ukraine.  The project, co-sponsored by the United States Government and the American Bar Association, was to assist emerging democracies in establishing constitutionally based criminal justice systems.  They were hosted by members of the Supreme Court of Ukraine as guest lecturers, speaking to large groups of Ukrainian judges