Message from the Director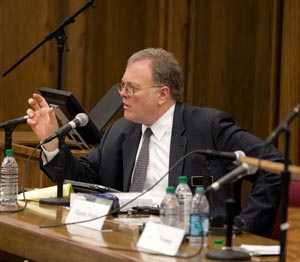 I want to express my deep appreciation for all those who helped make this year's International Law and Religion Symposium possible. I am very grateful for all of the delegates, who came from so many countries to spend time discussing the importance of religious freedom. I am also grateful for the assistance provided by many friends of the Center and conference attendees, who helped welcome our delegates to Utah. I am immensely grateful as well for countless hours of volunteer service rendered by faculty members from the law school and elsewhere on campus, and the dozens of students who helped in so many ways.
Events of the past year have helped remind us of the growing urgency of religious freedom issues around the world. A prominent study published by the Pew Forum on Religion and Public Life has documented the fact that 32% of the countries on earth representing 70% of the world's population have high or very high restrictions on religious freedom. The ban on crucifixes in Italian schools, concern in many countries about burkas and other forms of religious attire, controversy over the ban on minarets in Switzerland, tensions concerning defamation of religion in the United Nations and in many legal systems, and innumerable other issues that flood our inboxes daily, serve as constant reminders of the importance of freedom of religion and belief in individual lives. Often the threats to this fundamental freedom come not in the form of questioning the right, but in giving inappropriate precedence to other competing values. This too underscores the need for deeper appreciation of religious freedom norms.
With each passing year, opportunities to be of service in strengthening religious freedom protections proliferate. We have been invited thus far to join in co-sponsoring a variety of initiatives and conferences in 2011 that will contribute to religious freedom: Africa, Australia, the Caribbean, Chile, China, Europe, India, Indonesia, Nepal, Russia, and Ukraine. These represent important opportunities, and we are grateful to the support that makes such projects possible. (Contributions are always welcome and appreciated; they can be made online by going to the "Contribute" tab on the www.iclrs.org site.)
Looking back over the past several years, we have made extraordinary strides at the Center. This year's Law and Religion Symposium was one of the best ever. We are on the threshold of a major upgrade on our various websites, which will significantly expand our ability to collaborate with scholars and experts around the world. We have provided much of the energy for developing the Strasbourg Consortium website (www.strasbourgconsortium.org), which is one of the leading sites tracking religious freedom developments in the European Court of Human Rights. We are grateful to have an extremely strong staff, and an array of opportunities for making significant contributions in the field of freedom of religion or belief that are truly remarkable. None of this would be possible without the support and cooperation from many, many friends. Let me express my personal appreciation for all the help that has made our work possible.
Most sincerely,
W. Cole Durham, Jr.
Susa Young Gates Professor of Law
Director, International Center for Law and Religion Studies
Brigham Young University