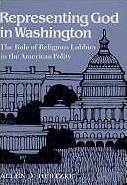 A study released 21 November 2011 by the Pew Forum on Religion in Public Life notes a dramatic increase in religious advocacy groups over the past forty years. "The number of organizations engaged in religious lobbying or religion-related advocacy in Washington, D.C., has increased roughly fivefold in the past four decades, from fewer than 40 in 1970 to more than 200 today." Such groups "collectively employ at least 1,000 people in the greater Washington area and spend at least $390 million a year on efforts to influence national public policy. As a whole, religious advocacy organizations work on about 300 policy issues." These policy issues are no longer restricted merely to domestic affairs: "roughly as many groups work only on international issues as work only on domestic issues, and nearly two-thirds of the groups work on both.
Primary Researcher on the project was Allen D. Hertzke, Pew Forum Visiting Senior Research Fellow 2008-2009. Hertzke is Presidential Professor of Political Science, University of Oklahoma. His 1988 book Representing God in Washington: The Role of Religious Lobbies in the American Polity was a precursor to the study. Also involved in the research were Pew Forum Director Luis Lugo and Associate Director Alan Cooperman, with Research Assistants Elizabeth A. Lawton and Elizabeth Podrebarac.
For more information about the study, see the Roadmap to the Report, and the full report at the links below.