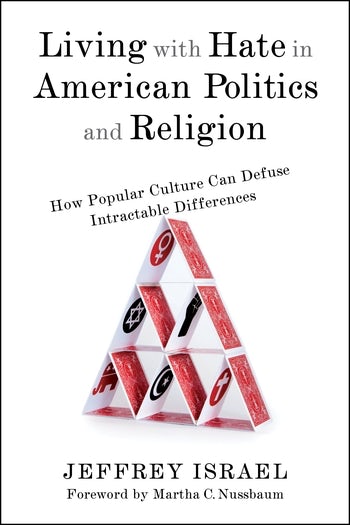 Living with Hate in American Politics and Religion: How Popular Culture Can Defuse Intractable Differences
Jeffrey Israel. Foreword by Martha C. Nussbaum
Columbia University Press 2019
In the United States, people are deeply divided along lines of race, class, political party, gender, sexuality, and religion. Many believe that historical grievances must eventually be left behind in the interest of progress toward a more just and unified society. But too much in American history is unforgivable and cannot be forgotten. How then can we imagine a way to live together that does not expect people to let go of their entrenched resentments?
Living with Hate in American Politics and Religion offers an innovative argument for the power of playfulness in popular culture to make our capacity for coexistence imaginable. Jeffrey Israel explores how people from different backgrounds can pursue justice together, even as they play with their divisive grudges, prejudices, and desires in their cultural lives. Israel calls on us to distinguish between what belongs in a raucous "domain of play" and what belongs in the domain of the political. He builds on the thought of John Rawls and Martha Nussbaum to defend the liberal tradition against challenges posed by Frantz Fanon from the left and Leo Strauss from the right. In provocative readings of Lenny Bruce's stand-up comedy, Philip Roth's Portnoy's Complaint, and Norman Lear's All in the Family, Israel argues that postwar Jewish American popular culture offers potent and fruitful examples of playing with fraught emotions. Living with Hate in American Politics and Religion is a powerful vision of what it means to live with others without forgiving or forgetting.
ABOUT THE AUTHOR
Jeffrey Israel is an associate professor in the Department of Religion and the Jewish Studies Program at Williams College.
Martha C. Nussbaum is Ernst Freund Distinguished Service Professor of Law and Ethics at the University of Chicago. She is the author of many books, most recently The Monarchy of Fear: A Philosopher Looks at Our Political Crisis (2018), and the winner of the 2018 Berggruen Prize for Philosophy and Culture.