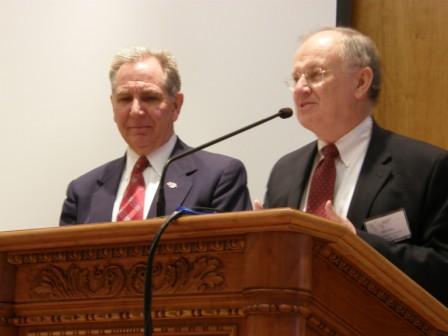 The LDS International Society held its 22nd Annual Conference at the Hinckley Alumni and Visitors Center on the campus of Brigham Young University in Provo, Utah, on 4 April 2011. The theme of the day-long conference was "The Erosion of Religious Liberties: Impact on the International Church." Delivering the conference keynote address was Michael K. Young, president and chancellor of the University of Utah. Following his address, President Young received the Society's 2011 Distinguished Service Award from William F. Atkin, International Society board member and associate general counsel, The Church of Jesus Christ of Latter-day Saints. Also addressing the conference was Dr. John Graz, Secretary-General of the International Religious Liberty Association (IRLA). Dr. Graz addressed "Global Challenges Facing Religious Freedom." [See report of Dr. Graz's address here.]
Afternoon sessions of the conference featured a panel, "Corporate Social Responsibility: Marshaling the Business Community in Defending Religious Freedoms." The panel was moderated by Gregory C. Clark, attorney with Kirton & McConkie and sustaining fellow with the International Center for Law and Religion Studies (ICLRS) at Brigham Young University. Panel members were W. Cole Durham, Jr., ICLRS founder and director and Gates Professor of Law at Brigham Young University, Robert T. Smith, ICLRS Managing Director, and Paul C. Godfrey, professor of strategy at BYU's Marriott School of Management.
Concluding the conference with the topic "Religious Liberty Initiatives: Preserving the 'First Freedom' at Home and Abroad," were Hannah Clayson Smith, senior counsel at The Becket Fund for Religious Liberty, who discussed the work of the Becket Fund in defending religious liberty court cases, and John M. Smith, counsel, Raython Company, who traced developments of and challenges to religious freedom in Ukraine.
Warning of eroding religious liberties worldwide, all participants urged greater vigilance and participation in the process of preserving a freedom that undergirds all other human freedoms: the freedom to think, believe, and worship according to the dictates of individual conscience, alone, or in company with others, and to participate fully as religious believers, without persecution, in the "public square."
Conference proceedings will be available on the website of the International Society later in the year, for members of the society.